My fantastic coworker shared with me that there's a place just over the bridge that has Mac & Cheese Mondays – so I had to check it out. Off to Keystone Bar & Grill I went!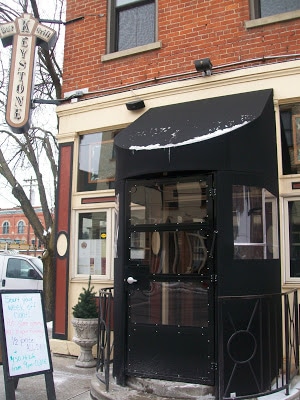 It's on Greenup – right across from Greenup Cafe & Chalk…looks like a plain old sports bar from the outside. There is ample metered street parking within a block so its easy to go for a quick lunch. Inside – it's really nice! Doesn't look like it's been beat up by the drinkers like the places in Mainstrasse.
Buffalo Chicken Wrap – grilled chicken tossed in buffalo sauce with shredded lettuce, Cheddar/Jack cheese, tomato and onion wrapped in a jalapeno-cheddar tortilla served with ranch or homemade bleu cheese dressing
There was a little menu confusion as my dining friend got an old menu that had hoagies on it…but all was resolved and he got the Buffalo Chicken Wrap instead. He thought it was fine but nothing special – I had a bite and actually really liked it! The chips are the good old saratoga chips (they call them Keystone Chips) and they were also tasty but maybe a little overdone.
I had to get Mac & Cheese – it's half-price on Mondays. There are 10 different kinds – I chose the Fleetwood Mac with fresh mozzerella, pesto and tomatoes. Regular price is $6.50 but today $3.25!!!! It's a small crock and at first I didn't think it would be enough for lunch but it packs a lot of pasta so I was definitely full (after stealing a few saratoga chips!).
I'd say on a scale of 1-10 – 10 being Kraft Mac & Cheese which is still my favorite – it was a 7. The pesto didn't add much flavor but the mozzerella on top was great. Wish there had been more of the mozz & tomato mixed in.
My coworker highly recommends the Buffalo Springfield which has Buffalo Chicken & bleu cheese on top…
On the saratoga chips we had to try their homemade bbq sauce. We both really liked it – sweet but with a bit of a spicy kick! Definitely a nice addition.
Why Should You Go? Besides the specials (Tuesday is 1/2 price Quesadillas!), it's a nice clean place and the service was great. It's "bar & grill" menu but I do think they try to jazz it up a bit and have "house specialties" which I think is key for success. I'm definitely doing the Quesadillas one of these Tuesdays (they're mostly reg price of $9.99).