I'm from Iowa as many of you know – and in Iowa we have something that is analogous to Skyline Chili – we have Maid Rites. Larry calls it a "fall apart burger", Roseanne opened a diner on her show that served "loose meat sandwiches", it's all Maid Rites.
Now what does that have to do with Ohio? Well I was on a drive in Oxford and 100% planning on heading to Kona Bistro. There used to be one in Cinci and I miss it very much – so that's where I was set on going. Until…I saw this: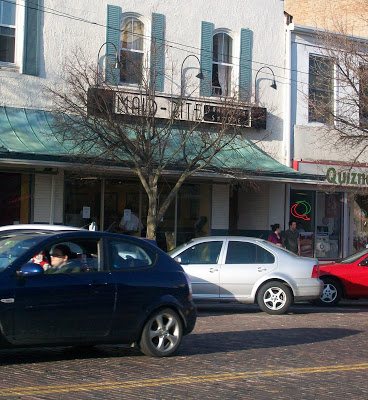 In the trees – what is that? A Maid Rite???? What the hell?????? I was giddy! So we abandoned Kona (we'll be back) and headed across the street.
You see when I do make the pilgrimage to Iowa – I always get a Maid Rite. We had one in my small home town growing up and I just love them. So to get one in Ohio?! Woohoo!
On the way – noticed this gorgeous old movie theater and had to take a picture. I am a Princess after all.
Here's the menu – click on it to see full screen. It's very simple and at $1.70 it's becoming VERY popular among the Miami U student body!
When we walked in I was very excited and proclaimed my love for Iowa Maid Rites. The young man behind the counter quickly informed me this was not affiliated with that chain and they are a little different – still loose meat – but not the "Iowa" Maid Rite. I was still excited – how different could it be?
Ah – here's my Cheese Rite, chips and chocolate shake. The shake was really good. But – how was the Maid Rite?
Well – I can't believe it but – it was disappointing. I can't put my finger on it – but there's definitely a difference. The bun was wrong, the seasoning wasn't the same, there was no spoon to pick up the fall out meat – it just wasn't my Iowa Maid Rite.
But – it was okay and it was really cheap – so all in all – a good experience. The owners of this shop also own one in Greenville, OH that is supposedly pretty famous around the area.
While in Oxford, we walked around and enjoyed the downtown a bit. It's a great spot and made me miss college.
I'm also on this "old sign" kick lately and spotted this one in Hamilton, OH. Who wouldn't want a Hungry Bunny Burger?
Why Should You Go? Well if you like the Greenville Maid Rites or if you're looking for cheap dining in a college town – it's a good option!