First – let me apologize for the lack of blogs. There's a little brand of cookies out there that is pretty much monopolizing my life right now. No – not eating them – working on their project. And you animals know who you are!!!!
But I still go on my drives – and when we're driving – we eat too!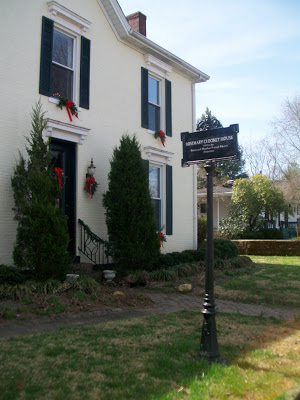 On a drive through Maysville we saw Rosemary Clooney's house. We also drove through Augusta – so to be honest – I'm not sure if this house was in Augusta or Maysville. Either way – very pretty – but it cost $5 to tour and we're on a budget.
More scenery of the town…I wanna move there.
Pretty view of the river from a little deck bench they have. I want one of these in my back yard. The bench – not the river.
The sweetest little couple was walking around town. Of course a few minutes before this – we saw them arguing about whether or not to go in a shop. We laughed and laughed – cuz we knew that would be us in 40 years or so. But then we saw them hand-in-hand again – so it gave us hope!
Beautiful houses all over the place!
After crossing the river back to Ohio – we were starving and found Moyer's Vineyard and Winery!
There was some sort of Corvette convention going on because we saw 6 of them in the parking lot. And inside…lots of older men…cuz I don't think you can afford one until you're at least 60!
I got a cheesy bean with bacon soup – it was pretty good. Not earth shattering but warm and tasty.
The restaurant is fairly big – there's a large indoor area and then a nice sized enclosed patio room. That's where we sat for lunch – it has a beautiful view of the river and the vineyard.
Ah – the river…very peaceful.
You can also rent out space for receptions, parties, etc…
I've never understood crackers and butter – who needs butter on crackers?
Larry got something like Fiesta Chicken or something like that. Chicken breast on rice with beans, salsa, etc… He liked it a lot and I got the cornbread – which was really good.
I got the steak salad – I think it was even named Moyer's Steak Salad or something. This thing is INSANE! Fried potato pieces, beets, blue cheese, perfectly cooked steak, grilled asparagus, bacon, nuts, croutons and warm german dressing. I have to say – I'm not a big fan of blue cheese and the combo of ingredients definitely sounded unique but…
…the salad was FANTASTIC. I totally couldn't eat it all – but it was sooooo delicious!
They also sell their wine – raspberry and more light fruity wines – we didn't partake but probably will grab a bottle next time.
Vineyards – duh.
We decided to keep on driving and headed to Portsmouth where we found the Buckeye Dairy Bar.
And mini golf course! It was a little chilly so we decided not to golf – but are gearing up for it soon.
I got my standard – vanilla dipped in chocolate – delish!
Larry opted for a banana split. I have never actually eaten one – I hate bananas. I even used to make them back in the day when I worked at the ice cream parlor. But – when in Rome – so I tried it and have to say – it was damn good!
They also have a pretty big menu of actual food items – but I was still stuffed from my salad extravaganza. Not too stuffed to eat ice cream apparently.
We kept driving and Larry said – hey – look at that zebra. I thought he was nuts – those are alpacas! But no – he was right – some farm in the middle of nowhere also has a zebra!
Why Should You Go? Well – it's a ways out – but Moyer's was definitely tasty. We honestly were a little surprised – the price wasn't bad and the food was actually good! Kinda thought maybe bad hotel food was in store – but no way.
Why Should You Go? Don't make a special trip from Cinci – obviously – but if you're in the area – it's a great stop for an hour of golf and ice cream!