I have pretty much avoided going to
McAlister's Deli
since my last job. I had been maybe once before working there and thought it was fine – nothing amazing. But then – at the devil job – I worked with the most annoying person ever to walk the planet. And this annoying person LOVED McAlister's. So much so he would berate you if you didn't want to go. He would yell "MCALISTERS MCALISTERS MCALISTERS" on a nearly daily basis. It made me never ever ever want to go again.
But hey – it's been 6 months since I left the devil job and the hubby wanted to try it – so I went in with a fresh head and decided to try it – all the while – annoying programmerguy's chant in my head – MCALISTERS MCALISTERS MCALISTERS! Ugh – he's like the opposite of a spokesman – he's a scareman.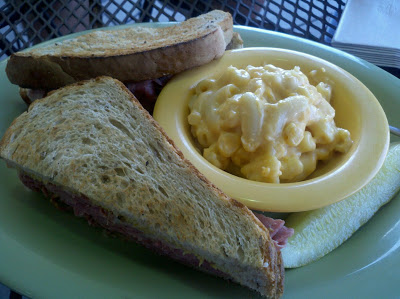 THE NEW YORKER™ • $6.79
Corned beef, pastrami, Swiss and spicy brown mustard on toasted rye
I went for a pseudo-reuben with a side of mac & cheese. Their menu is really big and one of the reasons I'm not a fan is that standing at the counter ordering is daunting. I need time to think about what I want at someplace that offers a lot of options – so I always feel rushed.
But the sandwich was fine – I would have liked the bread to be toasted a bit more. The meat and cheese were good but I didn't like the mustard so much. All in all though – I liked the sandwich – wouldn't get that one again – but it was fine. The mac & cheese was really good. I had a horrible mac & cheese just a couple days earlier at another place (it was so bad – I'm waiting to give the place another try before I write it up) so this was AMAZING in comparison. It was thick and creamy and cheesy and really good.
FRENCH DIP • 6.99
A quarter pound of USDA choice Black Angus roast beef and melted sharp
cheddar cheese on a baguette, served au jus.
Larry got the dip with a side of fruit. Now I hate hate hate soggy bread so I never get the french dip. Really it kinda grosses me out – dipping bread in juice. Yuck! But Larry was enjoying it and offered me a bite. So the reviewer in me begrudgingly tried it. It was actually good! The au jus really added flavor and didn't soggify the bread! I was pleasantly surprised.
And yeah – he got fruit as compared to my fat-laden mac & cheese. Bastard! Always trying to eat healthy in front of me – what's that all about?! (Not really – he just doesn't like mac & cheese that much.)
Why Should You Go? Well – it's fine. It's a sandwich place but they also have salads, soups and baked potatoes. It's not amazing – but it's not bad either. Good, standard chain. It's probably better if you don't have to hear the chant every day for 6 months. MCALISTERS MCALISTERS MCALISTERS!! (Calgon – thanks for taking me away!)