It's great when you find yourself in a strange part of town – with nothing to fill the emptiness in your belly but an
Urbanspoon
app! There I was in a back part of Sharonville to see a community theater production in a retirement home and I needed food first!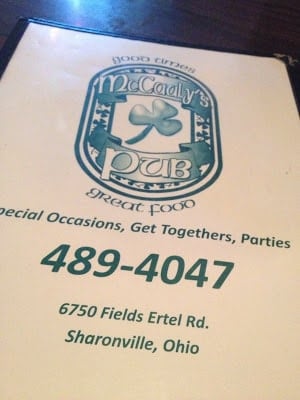 It's a true "bar & grill" with a large bar surrounded by tvs and tables/booths…
My friend got chicken strips and I'll tell you – she could very well be THE PICKIEST PERSON on the planet – she may not eat a baked potato because it's too glassy. (I don't even know what that is – but she does!) Well – she ate these chicken strips – so that says a lot! I tried a bite and they were good – crispy but not oily.
I decided to go for their admitted specialty – PIZZA!
If you can't tell – it was REALLY REALLY CHEESY. Seriously – that's a lotta cheese! I think I got a supreme of sorts. It was a good pizza – not amazing – but good. The crust was very thick and fluffy to hold together all of that cheese. I did like it but probably not enough to find it again. But if you're in the neighborhood – it would definitely be a regular spot.
Why Should You Go? If you're in the area – it's worth it. Service is hit or miss – the girls are nice but not really attentive unless you're at the bar.