This past weekend was Valentine's Day and I FINALLY have a Valentine (collective AWWW). It was also the fiance's birthday so we had a weekend full of events planned. After dinner Friday night (Aroma – review coming soon) we decided to head into Kenwood Towne Centre and hit up the Godiva store for some chocolate covered strawberries.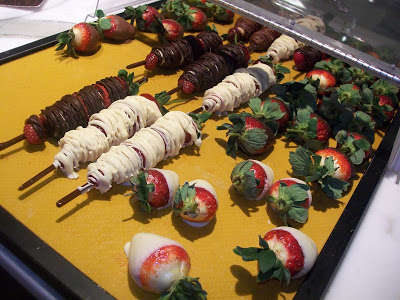 They have a big case of them in the window just taunting you…hello my friends!
I had to jump out and take a quick pic – there's Larry – staring at the berries. They also have boxed chocolates and drinks (I hear the shakes are AMAZING).
The counter person asked if we wanted strawberries – sure of course we do! Asked if we'd like 1/2 dozen – sure of course we do! She boxed them carefully in this beautiful packaging and gave us a free truffle for joining their rewards program (it's free and you get a free candy every month). Then we got a couple other things and headed to the checkout.
The total – $58!!!!!!
Holy crap – well we about fainted. The box of chocolates was $12, the truffle was free – what the heck was the rest!?!
Turns out the strawberries are $7 each! Larry said "Man – that's a week worth of value meals!" I admit – there was definitely some sticker shock. My fault for not asking…but damn.
So there you go – $58 worth of chocolate. We savored every strawberry and definitely made them last through the weekend! We also added in a berry cup – you'll see it in bottom left – it was good too – that was like $4. The packaging is ridiculously nice – the strawberry costs like 10 cents and then the packaging must be the rest!
We are still joking about the "million dollar strawberries".
Why Should You Go? Godiva – well it's special occasion chocolates definitely. Just be aware of the prices before you make your purchase. They are delicious.