A while back there was a tradition at work – every Wednesday was Sunny Deli day! You see, Sunny Deli is this normal deli that serves tuna sandwiches and chips and such every day – but – on Wednesday – they serve their Korean specialty: Bi-Bim-Bap!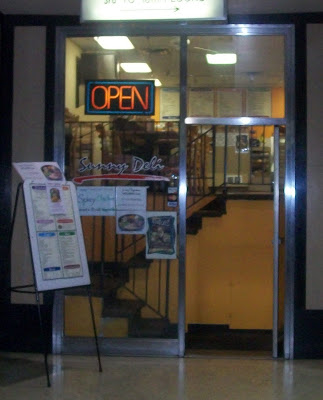 There are actually 2 locations downtown – I visited the one in Carew Tower. If you go in the mall doors next to Tazza Mia – then it's in the first hallway to the left.
Here's the normal sandwich-y menu…(if you click it enlarges – that's what she said).
So here's the skinny on the dish: a mixture of steamed white rice, Bulgogi (marinated ribeye), cooked over-easy egg and seasoned vegetable with Gochuchang Paste.
There's a similar dish at many Korean restaurants called Dolsot Bi Bim Bap – basically the same dish but brought to you in a stone bowl (dolsot = stone bowl). That cooks the rice while you're eating and makes it crispy and such. While amazing – this is a great cheaper/quicker version!
This is a family business and the family is there every Wednesday preparing the Bi Bim Bap fresh for every customer!
Here's what you get…looks amazing! The red stuff is spicy – but I love it. My favorite part is the pickles/cucumbers in the lower right. They're so crispy and refreshing. But they key is – not to eat it like this!
Oh no – just like Skyline (you cut, not mix) – there's directions to this dish. With Bi Bim Bap – you have to mix it all up!!!!
Much better…after mixing with your tiny plastic fork – you can go to town! It's spicy and there's a ton of food. I just love it. I can't rave enough about it. I also ask for soy sauce as well since I'm a salty girl.
BBB is my favorite downtown find since taking this downtown job 2 years ago. I crave it. I yearn for it. I dream about it.
I love me some Bi-Bim-Bap!
Right now, they're also serving a cup of french onion soup (sans cheese) for the winter months. It's a beefy broth – very warm – but I'm so full from the BBB – I didn't really need it.
I'm a huge fan of Sunny Deli – mostly for this Korean treat. Get there early though – sometimes they run out!