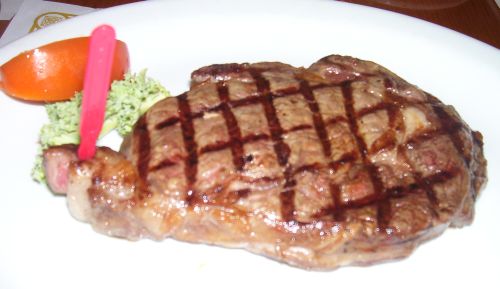 I was having dinner with a couple of friends for one's birthday and we were in Latonia/Covington heading for Newport for the evening. So rather than head to some same old same old Newport on the Levee restaurant we decided to hit a classic of Covington – Walt's Hitching Post.
I've driven by Walt's 100x and always wanted to go – it's just one of those places that I'm fascinated by! Now – let it be known – this is NOT the same Hitching Post in Hyde Park. This Hitching Post looks like the old school old people restaurant. It definitely is that!
I went a couple of weeks ago – so my memory of the meal is a bit off – but I do remember a few things…
THE BREAD THE BREAD THE BREAD!!! They start you with a basket of salted rye – and it's pre-buttered even! This is the most amazing bread – it's warm, a little toasted and has big hunks of pretzel salt on the edges. John and I are a bit embarrassed by the fact that we ate one basket EACH!!!! OMG – ummmm…that's a lot of damn bread! But it was sooooo good. I can't wait for more of that!
The side dishes were average – the salad was very average. I did get Mac & Cheese as a side and it was tasty – but come on – when isn't Mac & Cheese tasty????
I was in the mood for cow and so I ordered myself a big honkin' steak! I ordered the petite ribeye rare/medium rare and it was cooked PERFECTLY!
My friend's orders were both good as well – John got salmon which also looked delicious and my friend Lou ordered a hamburger and actually ate it! She's THE PICKIEST EATER ever – so a hamburger that she'll eat – definitely a bonus! (Her blog is called "My Weblog" and is linked from my site.)
Their specialty is ribs but none of us were in the mood…but I'd definitely go back for the steak. It was about $14.95 (I think) and was perfect! Plus they had my favorite condiment for steak – Worcestershire sauce – I can't say it but I can spell it!
Next time I want a great steak – or maybe ribs – I'm definitely heading back – and I'm getting my own basket of bread!
I think I'll give it a 3 – if the sides were better I'd bump it up…
Walt's Hitching Post
3300 Madison Pike
Ft. Mitchell, KY 41017
(859) 331-0494