After the visit to Bellevue Bistro that I discussed a couple days ago, I scurried down the street three doors to Three Tiers. While having lunch a woman walked by with cupcakes and I knew I had to find them! Sure enough – Three Tiers was just a couple doors away!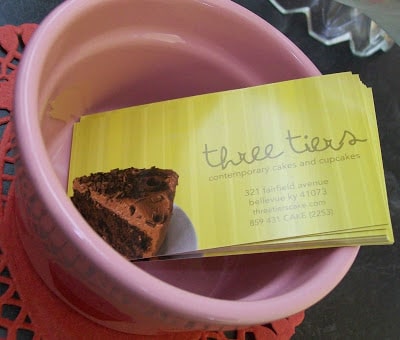 Their website and cards are such a nice design. The owner is very sweet and chatted me up about my blog and her shop. Her mom runs the Mrs. Teapots a few doors down.
There are some demo cakes in the shop – they look beautiful.
But for my trip – it was all about the cupcake. They have a few assorted varieties for sale – anything other than cupcakes has to be pre-ordered. The ones shown above are like a Hostess Cupcake.
Here's a shot outside – it's very cute…
Honestly I don't remember the names of what I got. The one on the left had caramel frosting with chocolate & toasted coconut. The one on the right was strawberry frosting I think.
The caramel frosting was delicious! I actually don't like caramel but this was just flavor and I loved it. The cake was nice – nothing special. The frosting is also more towards the whipped rather than buttercream – for those who know what they do and don't like.
Why Should You Go? All in all – it's a very cute shop. The cakes look great as well. Bellevue is so full of places – it's perfect for a Saturday afternoon with your friends – have lunch, shop and then get dessert – there are LOTS of options!