When you think of Florence – you think of Thai food – right? Of course you do! Okay – maybe not – but if you're a Thai freak and you think just because you're in the land of fast food on Dream St you can't have good Thai – you're mistaken. Head on over to the Wildwood Inn exit, go down a couple blocks and look on the left – and find Mai Thai!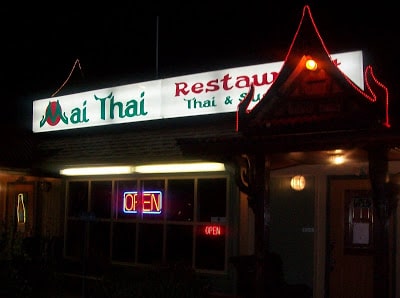 The outside is really cute – looks like a pagoda – or at least what tv shows make me think a pagoda would look like. I mean – America's Next Top Model wouldn't lie would it?

Strangely enough the inside looks like a sports bar – a mildy Asian sports bar – but still a sports bar…
I got Spicy Noodle (Thai noodle stir-fried with egg, broccoli, carrots, and bamboo shoots in spicy sauce) with chicken. It was tasty. I figured out the orange was carrot curlies – but what are the red????? BEET! After many trial bites I ended up having to ask…never would have though of beet. I am a wuss and got a 1 and thank goodness I did – it even had a kick!
I'm a big fan of the noodle dish – I always get it now – it's like my version of Pad Thai – I just don't like the peanuts and such in Pad Thai so this is how I judge the Thai of Cincinnati. Is that wrong? This version of the dish was not as quite good as Mekong or Green Papaya but better than Ban Thai. How's that?


A good friend of mine was with us (she likes to keep her anonymity) and she has some food issues. And by some I mean enough to fit into the Grand Canyon. But she knows what she likes and her coworkers love Mai Thai. So she HAD to find something she could eat there. And there it is! Mai Thai Chicken – Served with steamed rice – Sliced chicken, onions, carrots, celery & steamed broccoli in chili sweet and sour sauce. It's different from their "official" sweet & sour – sort of like sweet & sour deconstructed (too much Top Chef – sorry).
It's really good – the chicken isn't like the heavily breaded crap you get at a "chinese" buffet. It's a much lighter and more flavorful coating. The sauce was definitely sweet and sour but not like the thick goo that can often accompany the breaded crap. It was again lighter and more delicate but definitely sweet.
Said friend also doesn't eat rice or pasta and only likes the stem of the broccoli. God I love her.
I talked Larry into getting "the official" sweet & sour chicken. This was really great as well. It's a much lighter sauce even than the Mai Thai and a little more spice – not quite that SWEET of the traditional thick s&s. Not sure if that makes sense…but it was damn good.
I had to taste both versions numerous times before I made my choice – in the end I thought the latter was my favorite – but Larry would have preferred the prior. So live and learn.
All in all though – very good Thai and a nice change of pace from the usual-chain fare that is found in the Florence area.