So I've become a creature of habit – I go to the same few lunch spots every day. Well last week my twitter friend Jeff got me to branch out and I'm so glad he did! We met up for a mini-tweetup at Red Squirrel on Walnut. (By mini-tweet up – I mean we had lunch together.)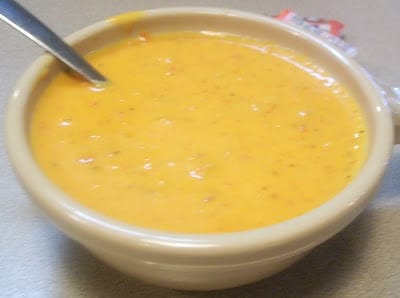 Jeff started with the red pepper crab bisque – he loved it! I went this week and tried to get it but they were out…dammit! I hope to try it sometime!
The second time I went I got clam chowder and it was really good too! Very creamy and a good balance of potatoes and clams.
So I'd say – soup is a good bet there!
I chose the Tuna Pasta special on my first visit – it's basically a cross between tuna and pasta salad. There's peas, celery, etc… along with a couple slices of tomatoes. I really liked it! It's not fancy but it's tasty!

Jeff got the oriental wrap – he didn't love it. All their sandwiches come with chips and a pickle.
When I went back this week – I got the #73 – which is grilled cheese with tomato and bacon and I loved it! No shortage of bacon!
My friend actually said she refers to the Squirrel as the "House of Meat" because they are ALWAYS plentiful in that area. And after grilled cheese with bacon – I can see why!
It's sort of unique too that it's a little bit of a "good old boys" feel – I swear – it was 95% men in there! Maybe I should go more often!