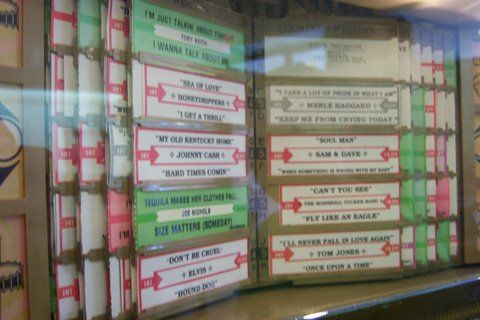 So I've been on this wonderful food quest in the city of Cincinnati for some time now. I think I've explored nearly every darned "fancy" place in the city! There might be some I've missed – so feel free to send those my way. But now – I have a new quest.
I want to find the best of the best in awesome cheap food. So what's your favorite dive? Where should I go?
My sister and I were hungry this past Sunday and decided to hit the town for some breakfast. For some reason PRidge Chili wasn't open (damn power!) and we headed to Norwood.
We stopped in front of Anna's (no website) and the prices are cheap cheap cheap. But, we walked in and the sign said no checks, no credit cards. So – out we went. On our way to the ATM – we found Bluebird Restaurant!
The photo above is a shot of their jukeboxes at each table – yes – this place is old school! But old school in a clean and pretty way! The decor is that of a diner right out of the movie Pleasantville. The waitresses were friendly, the menu was plentiful and the atmosphere was familial. There were obviously some "regulars" and the counter spots were very quaint.
Would the food live up to the atmosphere?
Yup!!!
To the left, you'll see my breakfast, yeah – pretty much heart attack on a plate (I never said cheap would be healthy).
I ordered 2 over easy eggs, hashbrowns with cheese, bacon (cooked medium – not crispy by request) and a 1/2 order of biscuits and gravy. That's the Bluebird Special and damn was it tasty!!!!
The eggs were perfectly cooked…the biscuits and gravy was EXCELLENT, the hashbrowns were cooked but not too crispy and oh the bacon!!! Normally – you get 2 withered pieces of bacon that are crispy and burnt (IMHO). I like bacon a little undercooked from most places…I mentioned that and the waitress immediately said "Oh, you want the bacon medium." YES I WANT THE BACON MEDIUM! I was so excited – nobody ever acknowledged my love of undercooked bacon so readily!
So yes – the food was great!!! The price for 2 breakfasts and 2 sodas (my sister ordered an omelette) was $16. So it wasn't "cheap" – but it was good and for a diner – it was so friendly and not "greasy" like so many of them can be!
My only complaint – it was about 35 degrees! So – get down to the Bluebird Restaurant in Norwood – across from Surrey Square – just be sure to take a sweater or a jacket!
The rating for Bluebird is going to be:
3 star = That's like generic mac & cheese – almost perfect – but it's not the blue box!
Mainly because it doesn't meet the cheap factor to make it really stand out amongst the world of breakfast spots. But – I'm definitely going back! My mom will love it!
4629 Montgomery Rd
Cincinnati, OH 45212
(513) 351-2427