I work downtown and there are so many different sandwich shops – I really need to get out and try more of them.
A couple weeks ago my friend Ron told me to try Fred & Gari's because they have the best cookies on the planet as well as great sandwiches.
So the cookie bug was in my ear and I had to get it!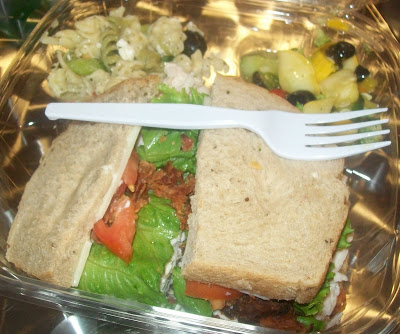 But before the cookie – I had to have a sandwich!
It's a very unassuming spot you've probably walked by a million times and didn't even realize it. The menu is very small and the whole thing is fairly informal. I decided just to ask what the favorite sandwich was and one of the guys (maybe Fred or Gari) recommended the turkey club.
I got that and then 2 sides… I chose marinated vegetables and greek pasta salad.
The sandwich was good – nothing special really – good sized – wish I had more mayo or something saucy.
The sides were good – they were both cold. I gobbled down the greek pasta salad – it was really tasty.
But more importantly – THE COOKIES!
Let me just say – these cookies are insane…they are gi-freakin-gantic! Some are just like 6 inches across and others are about 4 inches high. It's just nutso!
Don't believe me?
Yeah – that's a freakin cookie.
I got this chocolate oatmeal "cookie". Someone said it looked like a cow patty – um – not exactly the visual they were probably hoping for – but it was a damn tasty cow patty!
It wasn't the most amazing cookie ever – but it was pretty darned good. It was moist and flavorful – I definitely want to go back and try some more of them.