A couple weeks ago, me and the BF were up near Kenwood and hungry. Not having a lot of time we popped into Noodles & Co on the corner of Kenwood & Montgomery.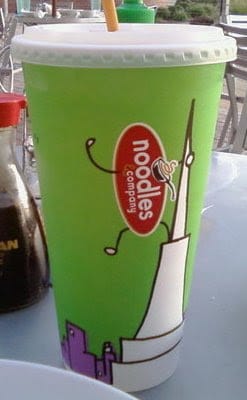 They do have a fun website – it's all Flash based but it's like a little town you walk through. They not only list full nutritional info but also have some things like "bowls under 400" and "watching sodium" so that's nice.
BF got the mac & cheese with chicken and I have to say – it was AWESOME! I was a huge fan of it and ended up eating all of his leftovers! This is a "regular" and I must say – it's big! If I didn't want leftovers – I'd just get a small. The chicken breast was okay – but the mac & cheese was really good on it's own.
I got the Pesto Cavatappi (basil & garlic pesto tossed with cream, parmesan & olive oil). There was supposed to be mushrooms in it as well but they were n early non-existant. I added shrimp. This was good but not near as good as the M&C. I think it was just a little lacking in the sauce department and thus flavor but it wasn't "bad" by any means. Again – regular size here is AMPLE!
Overall – for a chain – it's pretty darned good. Especially figuring I could get the small size in most instances – the price is pretty good. It's a nice cross between fast food and a sit down. You order at the counter and they bring it to your table.
There are lots of options as well – which is nice. Most of the "healthy" choices are from the asian menu – if you pop in and don't have time to look online first.