Sometimes my "better" half surprises me – we'll be driving around and he'll say, "I used to live around here." And then he'll direct me to some restaurant he used to always go to and I've never been…and thus…new food! Always something I love. On this particular day we came across The Back Porch.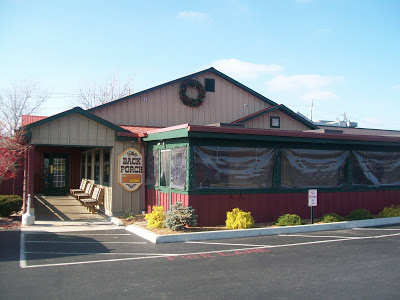 This doesn't look too exciting but off to the left is a GIGANTIC patio with volleyball courts and tons of tables. It seems that in the summer it's probably packed!
This may not look like much but it was awesome. It's the Texas Burrito ($6.95). It's a wrap with a Texas pork tenderloin in it – then lettuce, tomato, swiss and mayo. It was really great. It's also served with chips but we were getting fries – so it looks a little lonely… I enjoyed every bite of this and it was a lot of food. Next time – I might ask to add BBQ sauce!
Lar got the Pizza Hoagie ($5.95) – hoagie patty with tomato, mozzarella and pizza sauce. This beast was messy but really good (I stole a couple of bites). I was just amazed at the portion sizes – they were very good for the low price tag of $6-7!
We also got an order of fries to share – nothing spectacular but fine…
The menu is quite large and the place is nice! The UC game was on so there were quite a few football fans as well as small groups of regular lunch diners.
While it's a little off the beaten path for me – the food was excellent and very affordable – a definite place to go back to – especially in the nicer weather. I gotta check out that patio!