My handsome husband decided to take me out for a surprise dinner – although as soon as we got going – I had a gut feeling where he was taking me.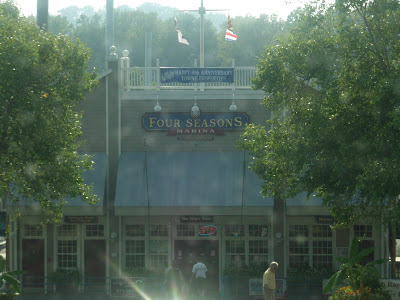 Sure enough – I was right! Four Seasons (same location as Pirates Cove) near Coney Island. We've gone to Pirates Cove many times but had never dined downstairs at the fancier restaurant.
Inside – well it wasn't hopping…it's a fairly traditional seafood place with portholes and life preservers abound.
We started off with the Shrimp Cocktail ($9.95) and while it was good – we thought the price was steep for only 5 shrimp.
Four Seasons is what I'd call "Old People Fancy" – paper doilies – 'nuff said.
We also got bread (warm) with butter (cold). Argh. It was freshly baked or warmed up at least.
I got the house salad – very plain. This came with my dinner. The ranch was good.

Fisherman's Catch
Fresh scallops and jumbo shell cut shrimp sautéed in a white wine and garlic butter sauce accompanied by our Chef's choice of fresh grilled fish. A house specialty! – $21.95

This was my choice and I didn't love it. The shrimp was the best part. The scallops were large but I think the wine/butter sauce was a bit much for these – it just didn't go well with it. The chef's choice was Mahi and it was REALLY dry and overcooked. The sides were veggies – which were pretty good. I also got "Double Cheese Mac and Cheese" – this was Kraft Mac & Cheese with shredded cheese melted on top. For $22 – I expected better from everything. I love Kraft as much as the next guy – really – but do I think I'm getting it as a side dish at a restaurant? Not so much.
Larry got a special with the same Mahi Mahi but it had a pineapple sauce on it – it was much better than mine. It was a little less overcooked and the sauce helped a lot. For the sides he chose the veggies and the black beans & rice. The beans & rice was okay but not great.
Why Should You Go? Well – if you have old people with you – maybe? Otherwise – I'd just head upstairs to Pirates Cove. The food is better and you get to feed the fish and ducks.