O'Malleys in the Alley is in the alley off Vine St. and they're pretty well known for their burgers. The other day was "girls lunch" and we decided to check it out.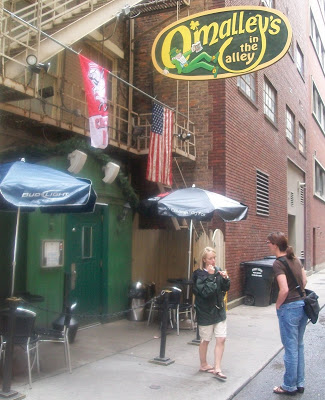 Don't the girls look adorable?
3 of us chose the burger because that just seemed like the thing to do. The bag of chips that come with is TINY. The bun is stale. The burger is pre-made and it's fine but nothing special. The toppings are minimal – tomato, lettuce and mayo. All in all – a disappointing burger.
One person got a "smasher" – it was a bit hard to take a picture of. It's described as salami and cheese that's then pressed (from what I recall). This is really something that my coworkers 5 year old could make. It's a hamburger bun with a couple pieces of salami and a piece of cheese smushed together. It was really small and there's absolutely nothing else on it. I think it was $4.50. The sauce is dill – I thought ranch but no – dill? Coworker did not like it.
O'Malley's also reeks of grease and so did we after an hour there. The service is the lone bright spot – they're nice people.