Cincinnati Magazine named Sammy's in Blue Ash as the #33 best burger in the city – so while I was working out that way – I had to try it out!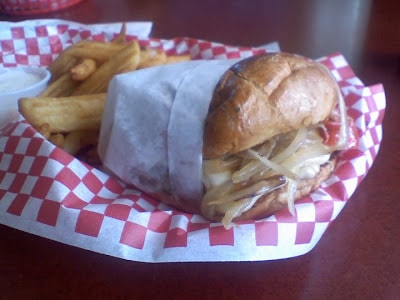 Pretty sure I had the Mushroom Burger ($8.95) with sauteed mushrooms & onions, cheddar cheese and Sammy's Sauce (haha – insert Michael Scott joke here). It's a BIG burger (kinda messy – which is a good thing) and the buns are good. I liked it – but can't say that I was like OMG I MUST COME BACK! It was good though.
Inside it's all red & white and very happy – the service was great and I definitely might head out there to watch a Reds game since they have some great specials. It also seems by their menu page that they're affiliated with El Pueblo – which I also have heard good things about.
Why Should You Go? Seems like a nice fun spot to watch a game or grab a burger with friends. It's a bit out of the way for me – but, like I said, the Reds specials might have us there this Sunday!