I've heard much hub-ub about
Gilpin's Bagel
and finally found the time to get there!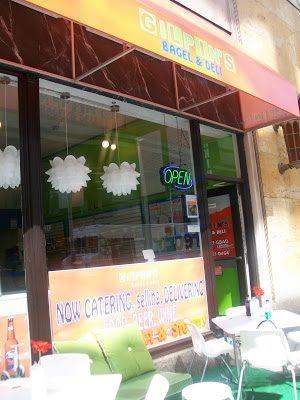 Gilpin's is a very cheery place. There's a cute little outdoor seating area with carpet and a couch – it's so cute. I wanted to stay all afternoon!
There are so many choices. They have a wall of pre-compiled selections, a dry erase choose-your-own menu and this wall of user choices! Anybody can make their own sandwich and illustrate it and put it on the wall. That's kinda cool! I went for the choose-your-own cuz that's how I roll.
You order at the counter – and while you're there – check out the steamed cookies. I passed – watching my girly figure you know.
Okay – we decided to eat outside and this was on our table. LOVE IT! Seriously – I'm gonna go buy some juice just for the cartons.
Lovely Marla got the Peace, Love and Happiness (hummus, sprouts, avocado, tomato) on a wrap. I think she was pretty happy with it. I was a bit preoccupied so I forgot to ask.
When you sit outside – make sure you don't assume they're going to bring your sandwich out to you or say your name loud enough for you to hear. We went outside and they brought Marla's sandwich to her…
Then…I sat…and waited…and waited…and waited. I probably waited almost 10 minutes from when Marla got her wrap. Then one of the counter guys came out and asked if one of us was Heather and that my sandwich had been ready for a while. Let's just say he wasn't full of customer-friendly service at that moment.
Now I should have gone in sooner – cuz I was starting to get annoyed. But when they brought my friend's sandwich to her – I just assumed they were bringing mine too! I'd never been there and it wasn't that busy.
So note to the Gilpin's Guys – if I don't come get my sandwich in 5 minutes – holler my damn name a little louder.
Now for my sandwich. I got a garlic bagel with corned beef, veggie cream cheese, avocado and maybe something else – can't quite remember. And I got it "hot & steamy".
It was definitely still hot when I got it ten minutes later…but I have to say…I didn't love it. I think I like the toasted rather than the steamed. I love hot sandwiches – so I will always choose that – but not sure the steamy is for me.
It did seem fresh and I might give it another try and pick one of their pre-selected choices.