Recently Outback Steakhouse gave away free steaks to a million people! Woohoo! So I got my coupon for a free 6 oz coupon with one side a couple of weeks ago. Before I knew it – the coupon was expiring – so I grabbed a friend and off we went.
I have had a bit of a string of bad luck with steaks and surely wasn't expecting much from Outback – but I went for it. They now offer a choice between:
I went for the wood-fire grilled since that sounded like a much better choice. I opted for a side of broccoli with the steak. As always I chose medium rare for my steak…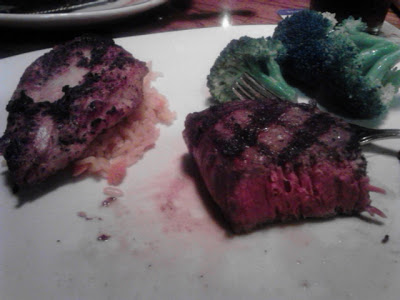 The blob on the upper left is a chicken breast I added on for $4 – it was very small and looked dry as all get out – but it was for my husband – so what did I care. (haha)
The steak was cooked PERFECTLY. I cut off the end to show the perfect medium rare – I was impressed. It even had a great flavor. I'm normally the girl that douses steak in Worcestershire sauce (easier to spell than pronounce oddly enough) – but this didn't need it at all!
The 6 oz size with the giveaway was small but when paired with the broccoli and some fries – it was definitely a full meal.
They also have a pretty extensive online ordering system and curbside pickup – which is pretty nice.
Why Should You Go? I was really impressed with the quality of the steak – and I'd recommend the wood-fire grill since it was so perfect! My friend ordered a half-rack of ribs and they also looked great. Surprisingly enough to myself – I will definitely be back to Outback!