When my mom was in town for the wedding we decided to use our Greater Cincinnati Independents gift certificate that I won a while back and headed to Padrino…which is IIIIIIIIIIIIIIIIIIIIIIIIIIIIIIIIIIN MILFORD! (That commercial is burned into my brain.)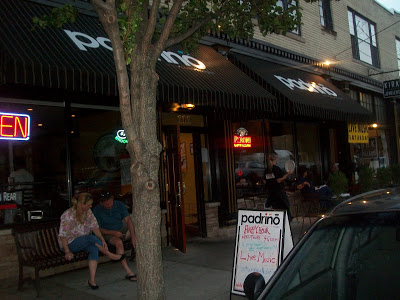 Padrino is on the main street of Milford just down from 20 Brix – so if you know how to get to Milford you can't miss it!
Larry ordered the Comfort Food Special ($13 – avail Mon & Tues after 5pm) which came with a side salad. He's not much for green things but he ate it and it looked above average.




We were all hungry so ordered the Garlic Knots as an app ($3). They weren't very good – doughy and not much flavor. The Bruno Dough from Brunos is far superior!

Larry's comfort food special was Lemon Chicken, gravy, potatoes and vegetables (along with side salad – $13). This was DELICIOUS! We were all envious and wish we'd made that selection. Another note on the comfort food – they serve it til it's gone – so don't go at 9pm and expect to get any! This coming Mon/Tues – it's Meatloaf.

Mom got The Italiano – $7.50 (thin sliced ham, genoa salami, cappicola, provolone , lettuce, roma
tomato w/ seasoned oil & vinegar). She enjoyed it and took half home for the plane ride the next morning!

I went with the pizza – as recommended by the waitress. It was 4 cheese + bacon ($11 – a special that night). I was teetering between this and pasta – I should have gotten the pasta. It looked good but I think the lack of sauce was too much – it was just dry. Although it did taste a little better reheated the next day for lunch.

Mom got some sort of chocolate heaven dessert – it was really good – very rich and heavy – like a lead weight. But it was good. That also had a to-go box for her plane ride the next day.

I went for the cannolis – I was pretty full so I only ate half of one – but I'm a cannoli fan so I had to get them. They were fine – nothing special. They were also better the next day after sitting in the fridge a while longer. No idea why.
Why Should You Go? I'd go again for the Lemon Chicken alone – it was delicious. I think the comfort food special is a good deal too. It's a nice place with a few tables outside. I don't mean to bad mouth the pizza – I just think my pizza selection wasn't the best. If we're IIIIIIIIIIIIIIIIIIIIIIIN MILFORD we might go again.