Every once in a while I get emails from local restaurants or staff asking me to try their place out – and sometimes I'm really quick. Other times…not so much! Three years ago (I'm guessing) one of the staff from
Pelican's Reef
on Beechmont told me I should come in and do a review…oops. Better late than never!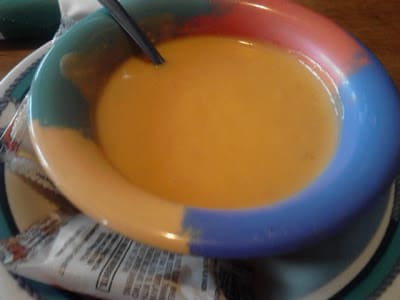 I decided to start with a cup of Lobster Bisque ($3.25) – it was a bit cold that day and this sounded nice and toasty.
It was okay – I tend to like soups better that have chunks in them – but I understand a bisque doesn't. That said – I sort of thought there would be pieces of lobster. There weren't any…it still had a decent flavor.
Meals started with a salad as well – it was fine – regular Caesar salad – nothing too fancy.
Our friend Rachel went for the Fish Tacos ($9.95). They looked okay but
Bayou Fish House
seems more my style.
Dani & I went for the Seafood Enchiladas ($13 I think). They came with a side of dirty rice – which was dry and undercooked. The enchiladas were fine and had a lot of shrimp in them. I wish they'd had a little more crab in them.
Dani was very pleased with her enchiladas – but we were all starving! 🙂
She also decided to take a slice of key lime pie home with her. Our server forgot to add this to her bill so Dani mentioned it and they just said – don't worry about it. So service and hospitality is very nice.
Why Should You Go?
Well unfortunately I didn't care for the food too much. I would have tried some of their seafood rather than the enchiladas but those dishes were all more in the $20 price range and I was trying to stay on budget a bit more. The service was great and very friendly. It's got the feel of a sports bar so it's casual and comfy. There's also outdoor seating for the nicer weather.