Last week I headed out to the Coach Outlet store in Monroe with my good friend Jen – it was her birthday shopping night! Whee!!!! Before we could handle all that is the Coach Outlet – we needed food – stat!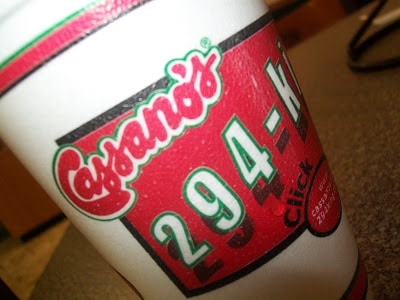 Cassano's is right on the way on Main St almost to downtown Monroe. We figured it would be quick and easy and it was!
I've seen the sign for Cassano's around town many times but never had a chance to stop. This location is mostly for pick-up but there are ten tables or so. Not much atmosphere but hey – we were just needing a quick bite before the shopping frenzy!
Jen's a vegetarian so we opted for the veggie combo – banana peppers, green peppers, olives, mushrooms and more. It's a thin-crust pizza (duh – you can all see that) and it was good. I'd like more cheese on mine – but I am a bit cheese-obsessed. There's not a lot of sauce either…so if you like a low sauce, low cheese pizza – you should try it. Otherwise you might want to ask for extra as a topping…
All in all a good pizza night – something I'd definitely have again – very crispy! And – the leftovers reheated well later that night. Plus the meat-eater that ate them didn't mind that it was veggie – so it must have been good!
Side note – they cut the pieces into squares – but like – little teeny tiny squares. It was kind of funny – two bites per square…maybe three.