Recently I was invited to Media Night at
The Pin Deck in Milford
. It's next to Scene 75 – which is a Dave & Buster's like attraction – with an arcade but also bumper cars, mini-golf, laser-tag, go-karts and more. So what does the Pin Deck bring to the table?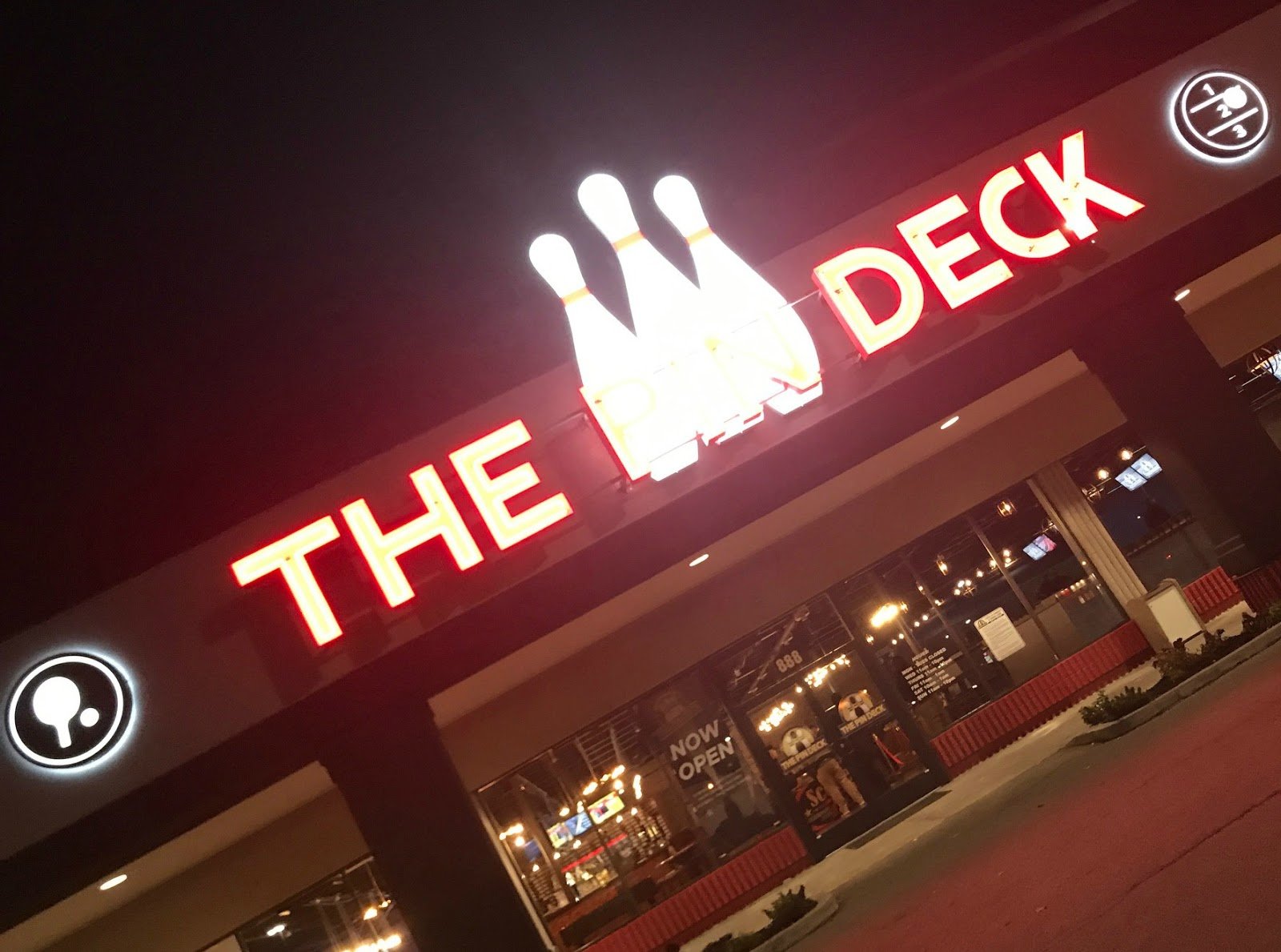 Highlights of the Pin Deck include a boutique bowling alley with a modern lounge feel, 12 state of the art regulation bowling lanes, and a contemporary city-savvy environment. Additional features include a full-service bar with local beers and craft cocktails, freshly prepared shareables from the in-house kitchen and space for private parties/corporate events.
For media night, they had a range of their two specialties – gourmet hot dogs and fancy macaroni & cheese – out for sampling. They also do specialty pizzas as well. I tried as many as I could – the truffle oil & mushroom (top left), a hot dog with sauerkraut and more (NY I think – top right) and the BBQ Bacon Mac & Cheese (bottom right).
The hot dogs REALLY stood out – they used high quality Hebrew National dogs and they were excellent. The front one here is a Luau dog with pineapple and slaw. There were 6-7 to choose from or you could just get one plain. Either way – the hot dogs were my favorite.
They also had a wide variety of fancy mac & cheese – from this buffalo in the front to the brisket in the back. I'll tell you one thing – they don't hide from spice. Any of the options with buffalo or sriracha meant business (aka too spicy for me!).
I met with the Chef briefly and he was great – he really wanted to create some unique specialties for the Pin Deck. These are his creations and he was right out there chatting it up with all of us.
We had a great time at the preview night – in addition to the bowling, The Pin Deck has plenty of fun for everyone by offering billiard tables, 8-person foosball tables, ping-pong tables and more.
Their Grand Opening is November 22 and if the popularity of Scene 75 is any indication – The Pin Deck is going to do just fine! Stay tuned to my Facebook page because I'll be running a gift card giveaway over there as well!