I love finding a great online site where I can get a variety of quality products that I can count on!
Brylane Home
is that site!
Recently I got a deep fryer
from them and it's fantastic! We use it all the time!
With summer coming up though – we have to get our deck ready! We have an inground pool and it's definitely a gathering spot for friends and family over during the summer.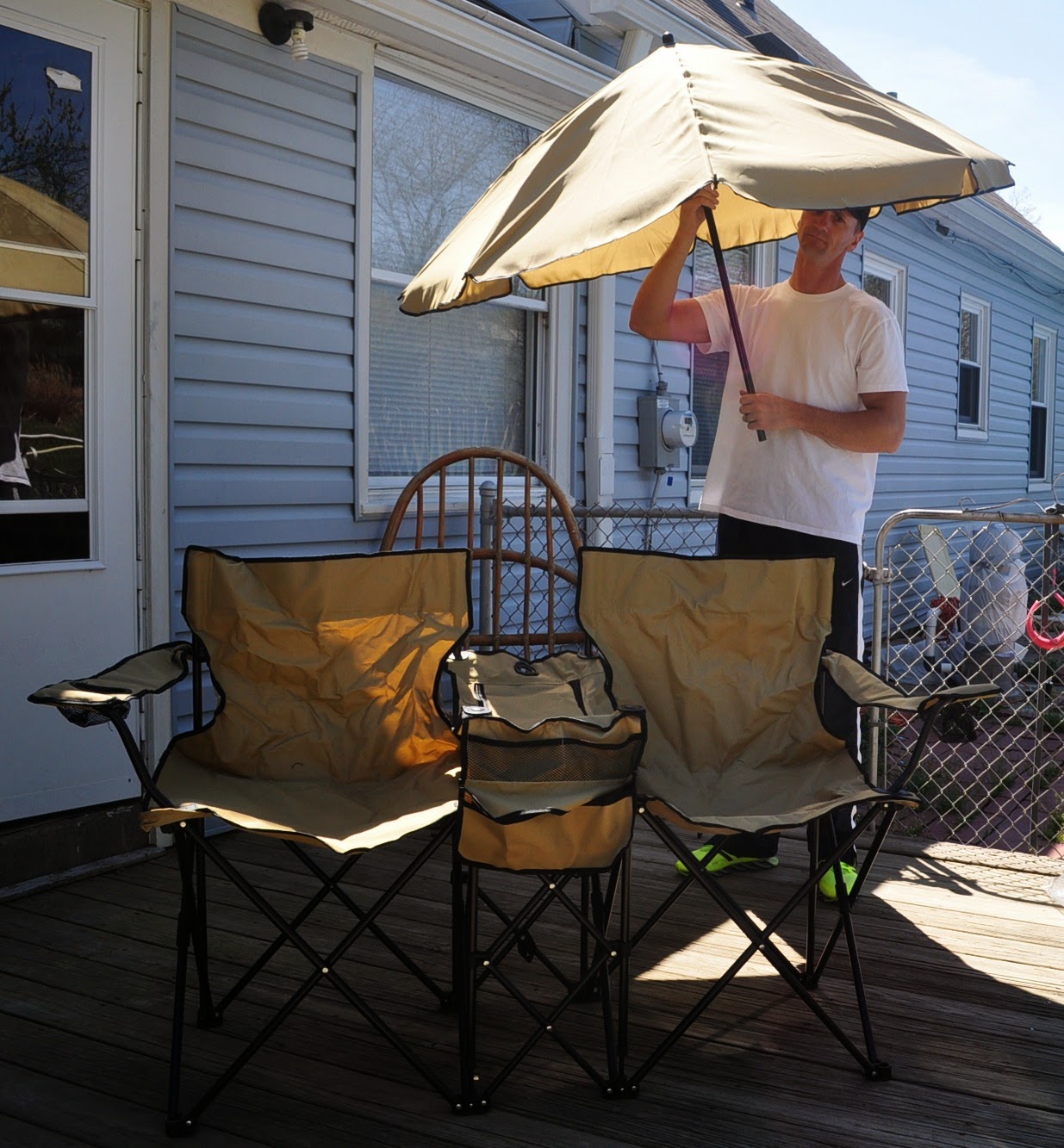 I chose this
Outdoor Furniture Oversized 5-piece Set
that has 2 chairs, cooler, umbrella and carrying case. It comes in four color choices and popped out of the box and came together in about 30 seconds.
We chose the khaki because of our other outdoor furniture. The umbrella snaps together, can go up or down and has these really hand slots that it slips into. The bottom of the umbrella post is pointed so you can secure it into the ground.
Here's a close-up of the cooler and pocket area. It's great – you could stash a book, sunscreen or phone in the pockets on the front. Then between the seats is a cooler. It's a great size and could easily fit 6-12 cans of soda with ice packs or ice. (There are also cup holders in the arms of the chairs.)
Here's a shot of my helper husband Larry enjoying the new deck seating! It is PERFECT for our back yard!!! We have a bit of shade from the house on the pool side of our yard – but the deck side of our yard is ALL SUN. This will be fantastic for the summer! The other thing I liked is that the chairs are BIG – I have a big hiney – so I like big chairs! These are perfect for me! Larry and I could also sit together and feel completely comfortable – we weren't crowding each other at all. This set is a hit – and at only $79.99 – it won't break the budget!
It all comes in this handy travel bag with rollers – and for a change – you can actually get it all back in the bag! The set is all one piece (except for the umbrella) – so you just have to squeeze it back together and slip it in.
The good thing about that is we'll be able to take it with us this summer! Whether it's a parade or fishing – this Outdoor Furniture Set will be great for the back yard – or on the go. I'm so excited we got this!
Plus – if you are like me – and still haven't gotten your Mom anything for Mother's Day – they have a ton of great ideas! My mom loves her flowers – so whether it's this cute garden trellis, these bucket brigade fence top planters or this translucent lighted fountain – I know I'll find something she'll love!
If you sign up for the Brylane Home email you'll get 20% off your highest priced item.
I hope you find something for you or for Mother's Day – and enjoy the outdoors this summer with Brylane Home.
Disclosure: Brylane Home provided me this outdoor furniture set free of charge but the opinions are all my own.