Sometimes brands send me things for free – but this is not one of those times. This one came out of my pocket…unfortunately.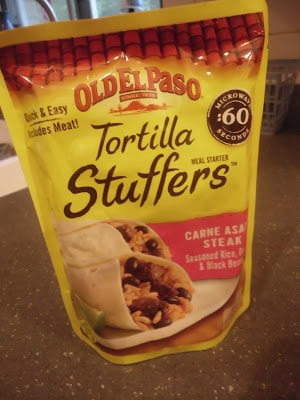 I know – it seems like a bad idea. Nothing pre-packaged that can be eaten in 60 seconds is going to taste good – but I had my hopes. I also had coupons. So I bought a couple of packages of these Old El Paso Tortilla Stuffers. Last night I had to work late so by the time I got around to eating – it was 8pm and I was starving. I needed something quick and this fit the bill.
Now I knew that this package of pre-cooked "Mexican" would need some help. So I went to the fridge and pulled out everything I could find for toppings.
And I piled them on – goat cheese, regular cheese, sour cream and salsa (from the Farmers Market in Iowa).
Unfortunately – it didn't really help. The product was dry and there really wasn't any sauce to speak of. The meat was kinda funky as well – really dry.
So all in all – not such a great experience. I covered it with enough stuff to make it edible – but didn't really love it. I used about 1/2 the package to make 2 small tacos.
Just thought I'd share since it's a new product…have any of you tried it? Or is there another new product you've tried that was really good?