So Taco Bell has created "Cantina Bell" and is trying to play with the big dogs…barking up the Chipotle porch. How will they do?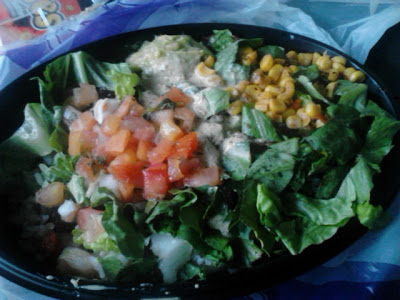 They are offering a bowl and a burrito as well as chips & guac. I tried the bowl with steak. The above is a photo – there's a dressing in addition to lettuce, beans, tomatoes, corn, guac and steak.
The verdict?
Awful. Completely and utterly AWFUL.
I know – some of the folks out there are going to comment "Well it's Taco Bell what did you expect?" Oh bite me.
I expected edible. This steak was NOT – it was really bad. I've eaten their steak in items before but this was just gross. It tasted like hard pieces of mud. Hard, crunchy, no flavor – like what I would think dog food tasted like. It was THAT bad.
The toppings were okay but they had none of that "fresh" feeling and taste you get from Chipotle.
So don't bother – and the price was barely less than the real deal.