Quickie review for a Monday – a couple of weeks ago we used one of the daily deals at Roc-a-Fellas in downtown Sharonville. Larry had been wanting to go and we finally had a night free to run up and get the 'za.
We had bought a $20 gift certificate for $10 and they had a $20 special on their site (it's not working this morning) – so we went for it. Pretty sure it was pizza, breadsticks and a 2-liter for $20.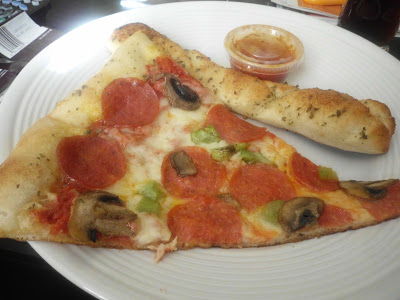 The service was very friendly when we went in to pick it up and the pizza was GINORMOUS! It definitely lasted us a few days. It was a super thin crust which I like and the toppings were fresh. The breadsticks were fine but nothing too special. I remember loving the marinara though – I think they must make it – it just didn't taste like it came out of a can.
Why Should You Go? @kickingdonkey recently asked me what's the best pizza in Cincinnati – it's a tough question to answer. Bruno's in West Chester is probably my favorite and it actually gave me a bit of a "wow". Roc-a-fellas was good and we enjoyed it – but not a wow. It is nice to know of someplace for a good THIN crust pizza – which tend to be my favorite.
Roc-a-Fellas is also run by a Christian organization and the restaurant helps fund mission trips – love that! I'm hoping I get to go on a mission trip someday! So that's one reason to definitely return.