Bootsy's has this dish that I love – Ropa Vieja. I wanted to see if I could make it myself so in my new stay-at-home-and-save-money way – I found a recipe!
Thanks to Ladies Home Journal for this one…and it's a crock pot one to boot!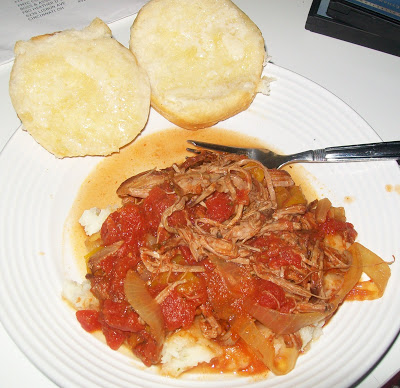 Here's the finished product – I served it over mashed potatoes – not sure why – but they were easy and available.
We had to substitute a little – couldn't find sofrito at Biggs and no cilantro at the end – but other than that – we were good.
It was tasty but not near as good as Bootsy's…
Ropa Vieja
Ingredients
1 tbsp vegetable oil
1-1/2 lbs flank steak, trimmed of fat, cut into 2 pieces
1 large yellow onion, sliced
1 green bell pepper, sliced
1 red bell pepper, sliced
2 cloves garlic, minced
1 28-oz can whole tomatoes
3 tbsp tomato paste
1/4 cup sofrito
1 tbsp sugar
1-1/2 tsp ground cumin
1 tsp dried oregano
1 bay leaf
1/2 tsp kosher salt
Chopped cilantro
Directions
1. Heat oil in a large nonstick skillet, Dutch oven or pot over medium-high heat. Add steak and brown well on both sides, about 5 min. Transfer to a 4-qt slow cooker if using, with all remaining ingredients except cilantro. Cook until meat is fork-tender, 10 to 12 hr on low or 5 to 6 hr on high for slow cooker or 3 hr at a simmer on the stove.
2. Remove meat; shred and return to stew. Serve with cilantro and beans if desired. Makes 6 servings.
Why Should You Make It? Well it was good and very much comfort food – although with spring here we're getting out of that. I liked it but it was missing something – so if you have a better/different recipe or if the soffrito was the key – let me know!