I'm a sucker for tacos – doesn't matter what you put in them – I like 'em.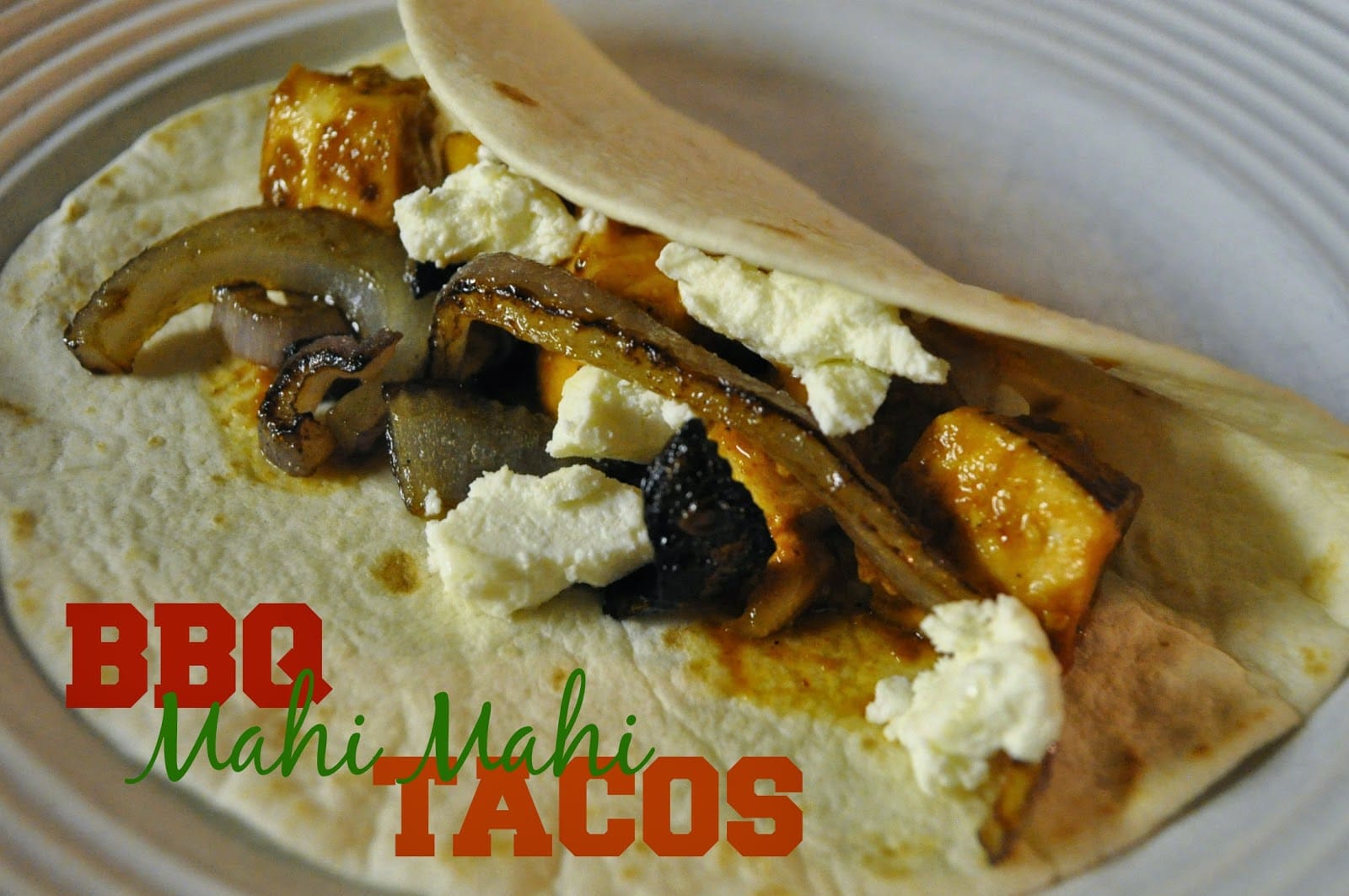 I came across a recipe for tacos using Mahi Mahi and thought not only that it sounded good – but also remembered I had some left from my Schwan's box (read about products here and Balsamic Glazed Salmon here).
I checked the fridge and had tortillas, a red onion, BBQ sauce and goat cheese – sounds like dinner to me! The original recipe made their own BBQ sauce but I have about 5 bottles given to me from random events so I need to use some of it up. The one I chose tonight was from my trip to Branson, MO!



First you cut up the Mahi Mahi into chunks. This is a very thick fish – and it holds up really well – no flaking here – similar to fresh tuna. I cracked a little salt & pepper on the fish first to season it.
Then I started the red onion slices in the saute pan. I got these nice and soft and carmelized. It takes the bite out of it but still leaves the onion flavor. Once ready I removed the onion from the pan and set them aside.
Then I tossed the mahi mahi in the BBQ sauce and put that in the saute pan. It cooks up quickly when it's in bite-sized pieces like this.



Here's my sauteed onion and crumbled goat cheese – just waiting for their home in my belly!
Once the fish is done, pop it all together. I heated the tortilla shells quickly in the microwave and added my BBQ mahi mahi, red onion and goat cheese. This was so tasty! I love mixing it up and trying out new things – and you really can never go wrong with goat cheese.
1/3 cup goat cheese crumbles
Heat saute pan and add olive oil and red onion slices. Saute for 3-4 minutes until soft and starting to brown. While onions are cooking, dice mahi mahi into bite sized pieces. Season with salt and pepper then toss with BBQ sauce. Remove onions from pan and set aside. If needed, added a touch more olive oil to the pan. Add mahi mahi to the saute pan and cook for 5 minutes or until cooked through. Serve with tortillas, goat cheese and sauteed onions.