Hi – my name is Food Hussy and I am a queso addict.
I'm fine admitting it – if there's queso on a menu – I have to get it. My absolute all-time favorite is from
Carlos O'Kellys
back home. It took me 2-3 tries to get it right and I finally did. This copycat Carlos O Kelly's queso is much creamier and richer than the old "Velveeta + Rotel" standby and you will love it!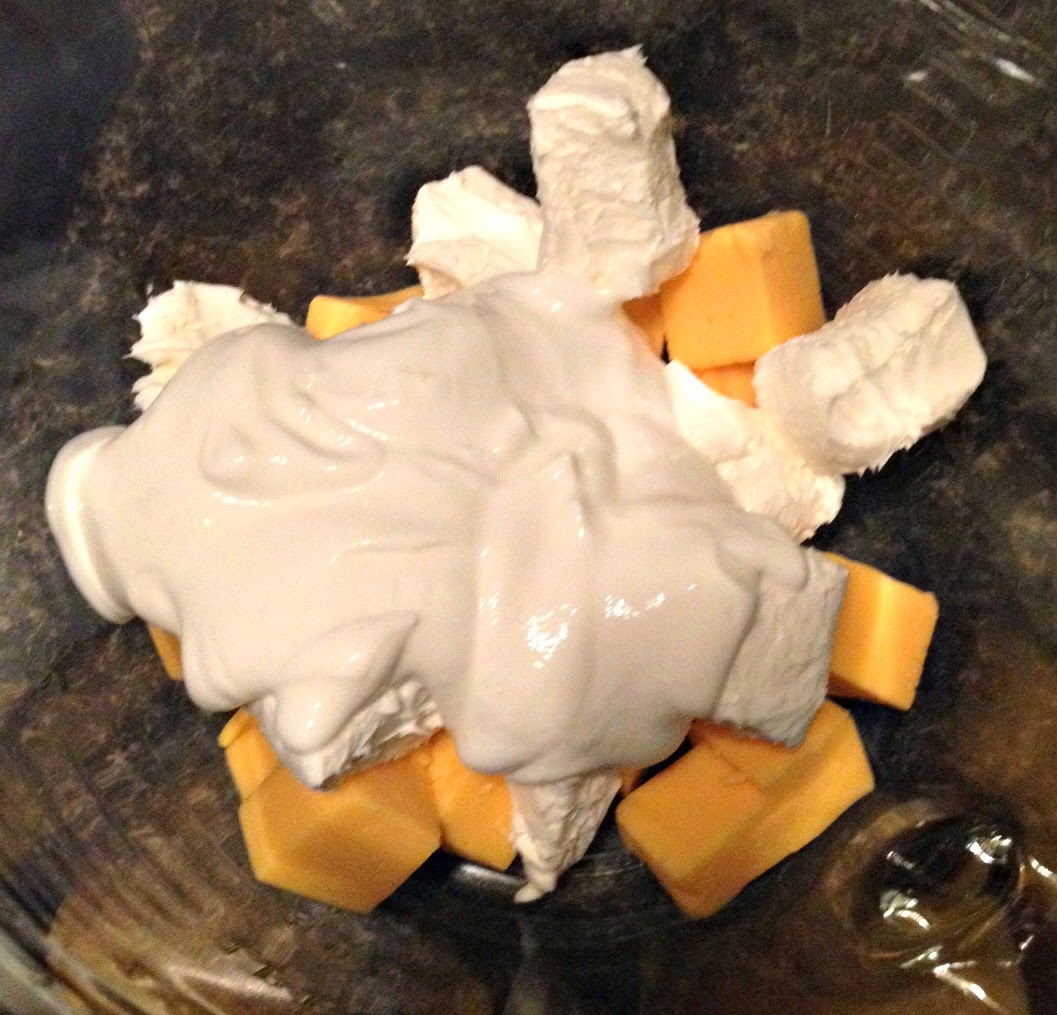 First, I found a recipe that called for Velveeta, cream cheese, sour cream, sausage and Rotel (or generic) tomatoes. The full recipe can be found on Plain Chicken. This has equal parts Velveeta & cream cheese and then half as much sour cream.
It was okay – but it wasn't "right" – it was too much cream cheese for me and too thick. I liked it but didn't love it.
What I did love were these chips!!! One of my readers sent me an email (Thanks Chrissy R!) after reading my review of Chuy's. She saw that I was craving these uber-thin chips like they had and told me I can get something just like that at Kroger! WHAAAAA?????
So thank you Chrissy – you have made my world better and I'll never buy another brand of tortilla chips again! Xochitl is the brand – it's not in the regular chip aisle – it's with the organic foods chip aisle. They're worth the extra 2 minutes to find them – trust me! (I need to squirt some lime on them next time!)
So I decided to try again with the left over Velveeta, sausage and tomatoes and I think I perfected it!!! The Carlos O'Kellys version does NOT have sausage – I had it leftover so I wanted to throw it in. Good add!!!
This version was lighter and cheesier and just all around better – so woohoo for me! Perfecto!
Copycat Carlos O'Kellys Queso
prep time: 5 mins
cook time: 10 mins
total time: 15 mins
This copycat recipe took me quite a while to figure out but once I did – I never stray. Carlos O'Kelly's is my favorite Mexican restaurant back home in Iowa and this queso is identical to theirs and I love it!! It's richer and creamier than the old "velveeta + rotel" recipe! You'll love it!
ingredients:
1/4 lb chorizo

1/3 cup onion, diced

8 oz Velveeta, cubed

4 oz cream cheese, cubed

1 small can Rotel mild tomatoes
instructions:
Saute chorizo and onion in skillet on medium and break sausage into very small pieces. If using links with casing – cut open casing and just saute sausage from inside. Once browned, drain on paper towel.

In microwave safe bowl combine Velveeta and cream cheese – microwave 45 seconds at a time – stirring each time. Microwave until all chunks are melted through. You might mush them against the side of the bowl to help them along.

Stir in the tomatoes and browned chorizo and onion. Mix well and microwave 30 more seconds.
NOTES:
It's really all up to you and your taste buds but for me - this ratio of 2:1 Velveeta:Cream Cheese was right for me. I just happened to be out of sour cream when I made it the 2nd time around and that was fine - it was better without it. I'll take simple anytime!