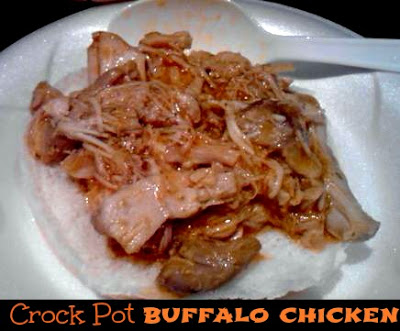 So how many of you are addicted to
Pinterest
like I am? I'm OBSESSED! If you're not familiar – it's a site where you have a bunch of images that you like. Any site you're on, you can "pin" an image to one of your boards. Then other people see and repin to their boards and blah blah – sharing! It's a timesuck that I love.
While sucking my life away – I've also found a lot of great recipes that I want to try! Most of them are on my
Food board
. One in particular that jumped out at me was one for
Crock Pot Buffalo Chicken
. The number of crock pot recipes is astounding and I love it!
This recipe is soooo simple! The thing I love best is that you can use the chicken right from the freezer! I used boneless, skinless chicken thighs because that's what I had (the recipe calls for breasts).
Here's the recipe:
Slow Cooker Buffalo Chicken
3 lb. bag of frozen chicken breasts

1 bottle Frank's Wings Buffalo Sauce
Put frozen chicken, wing sauce, and ranch dip mix into crock pot.

Cook on low at least 6 to 7 hours

Using two forks, shred chicken & return to crock pot.

Cook on low for an additional hour.
Here's a shot in the crock pot. So easy! I just filled my crock pot (it's pretty small) with chicken thighs, poured the whole bottle of buffalo sauce on top and then sprinkled the ranch mix on top. Pop the lid on and you're done!
I used the buffalo chicken on sandwiches quite a bit for Larry and I's packed lunches. But – the best find was trying this buffalo chicken on baked potatoes!
QUICK TIP: I've taken to buying baking potatoes and then when I'm sitting around in the evening – I just throw a couple in the oven for an hour. I saw from the folks at America's Test Kitchen to rub the potato in olive oil and salt and then put it right in the oven (no foil) so the skin gets crispy. It's a great time saver and you can put so much stuff on a baked potato! It helps so much when I'm getting our lunches ready in the morning!
So I had baked potatoes ready and decided to pop some of the buffalo chicken on top. Then I packed sour cream in a separate container for topping. I have to say – this was AMAZING! The recipe provides a lot of sauce in the pot along with the chicken – and the sauce with the baked potato – was so delicious.
It was also good on sandwiches of course – but for me – the potatoes were the best!
I hope you try this one and enjoy – and hey – feel free to share your favorite crock pot recipe in the comments! There will be TWO giveaways on tap this week as well!
Enjoy!