The other day I came home to a six pack sitting on my counter! A six pack of ice cold beer? Heck no – a six pack of Red Gold Tomatoes! Way more exciting to me of course. 🙂
(Keep reading and find out how YOU can get this same gift on your kitchen counter!)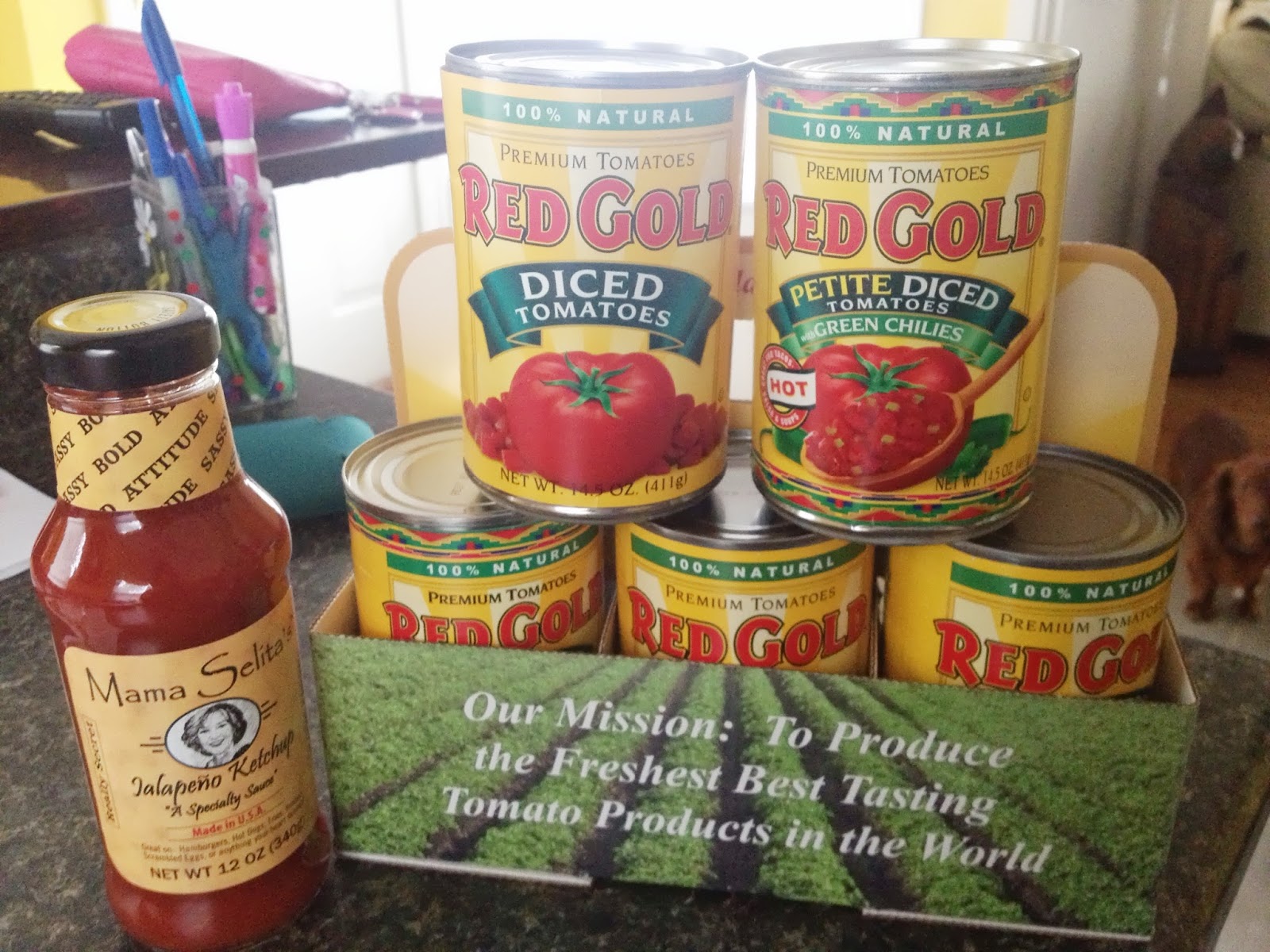 In addition to the tomatoes they sent me a bottle of Mama Selita's Jalapeno Ketchup. Why the combo? Red Gold is having a Summer Grilling Party Sweepstakes that is open for one more week! (Ends Aug 30) With that they sent me tomatoes, ketchup, a couple of aprons and recipes for using Red Gold Tomatoes while grilling burgers! I was curious to find out how to use canned tomatoes on the grill!
Here's my selfie with my new Red Gold Tomato apron – pretty sexy of course!
There were 5 burger recipe cards with the pack – I chose the Caribbean Chicken Burger to try first.
It's pretty simple – mix ground chicken, Red Gold Petite Diced Tomatoes w/Lime Juice & Cilantro, 1 egg (I left this out), breadcrumbs & salt/pepper. My husband is allergic to eggs but typically eggs are used as a binder – so as a swap – I just didn't drain the tomatoes as much. This mixed up easily enough and was pretty gloppy.
They formed patties pretty easily though – I just sort of glopped them together on my grill pan. We don't have a great grill – it's a cheap-o charcoal – sure would be nice to win that Green Egg Grill in the sweeps – right?!
They held together really well on the grill – so I topped them with some swiss and was ready to go!
I wish I'd had more toppings – this would be great with avocado and maybe some grilled pineapple slices! The burgers were really juicy with the extra tomatoes inside the burger. These burgers are better fresh – extras get a little dry since the chicken is fairly lean.
There you have it – the way to use canned tomatoes on the grill! Thanks Red Gold for introducing new burger ideas to me. Below the recipe you'll find a giveaway of 2 Red Gold gift packs like the one I got. And don't forget to enter the sweepstakes – it ends August 30!
Red Gold Caribbean Chicken Burger
1 pound ground chicken
1 14.5 ounce can Red Gold Petite Diced Tomatoes with Lime Juice & Cilantro, drained very well
1 egg, beaten
1/4 cup bread crumbs
salt & pepper to taste
Mix all the ingredients together, make patties and grill.
* I received the Red Gold gift pack for myself and 2 to give away in exchange for this blog post. The opinions are all mine.