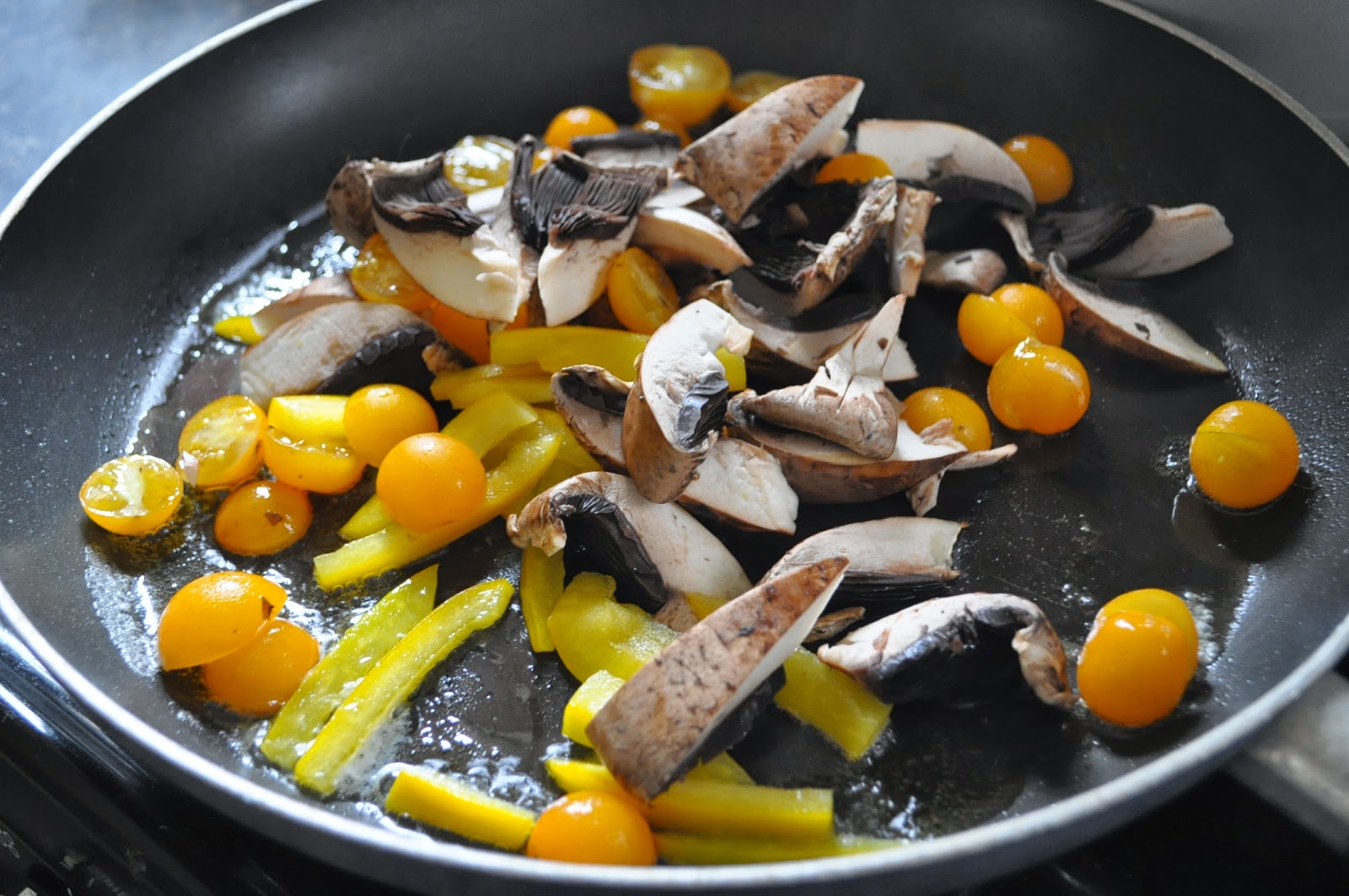 I didn't follow the recipe exactly as it was listed – but pretty close. Boiled some water for pasta – then sauteed veggies from the fridge. I started with mushrooms, cherry tomatoes and peppers.
Then I added kalamata olives and spinach – and just heated for a couple of minutes until the spinach wilted. The colors are so beautiful!
Finally – I served it over penne pasta. Healthy and delicious! How can you get any better?!
Grape Tomato, Olive, and Spinach Pasta
Ingredients
8 oz uncooked penne
2 tsp olive oil
1/4 tsp crushed red pepper
1 large clove garlic, thinly sliced
2 cups grape tomatoes, halved
1/2 cup organic vegetable broth
1/4 tsp kosher salt
1/4 tsp black pepper
10-20 kalamata olives, pitted
4 cups baby spinach
1/4 cup torn basil leaves
1/4 cup grated Parmesan cheese
Instructions
1. Bring a large saucepan of water to a boil. Add pasta, cook 8 minutes. Drain in a colander over a bowl, reserving 1/2 cup cooking liquid
2. Heat a large skillet over medium heat. Add oil to pan; swirl to coat. Add red pepper and garlic; saute 30 seconds. Add tomatoes, broth, salt, black pepper and olives; cook 6 minutes or until tomatoes begin to break down, stirring occasionally. Add pasta and 1/2 cup reserved cooking liquid to pan; simmer 2 minutes. Stir in spinach and basil; cook 2 minutes or until greens wilt. Divide pasta mixture evenly among 4 bowls; top with Parmesan cheese.
Around The Web
'); script.type = 'text/javascript'; script.src = 'http://widget.crowdignite.com/widgets/31877?v=2&_ci_wid=_CI_widget_'+_CI.counter; script.async = true; ref.parentNode.insertBefore(script, ref); })();