I'm a sucker for chicken casserole dishes – they're easy, saucy and just plain good. When I saw this one – I knew I had to make it!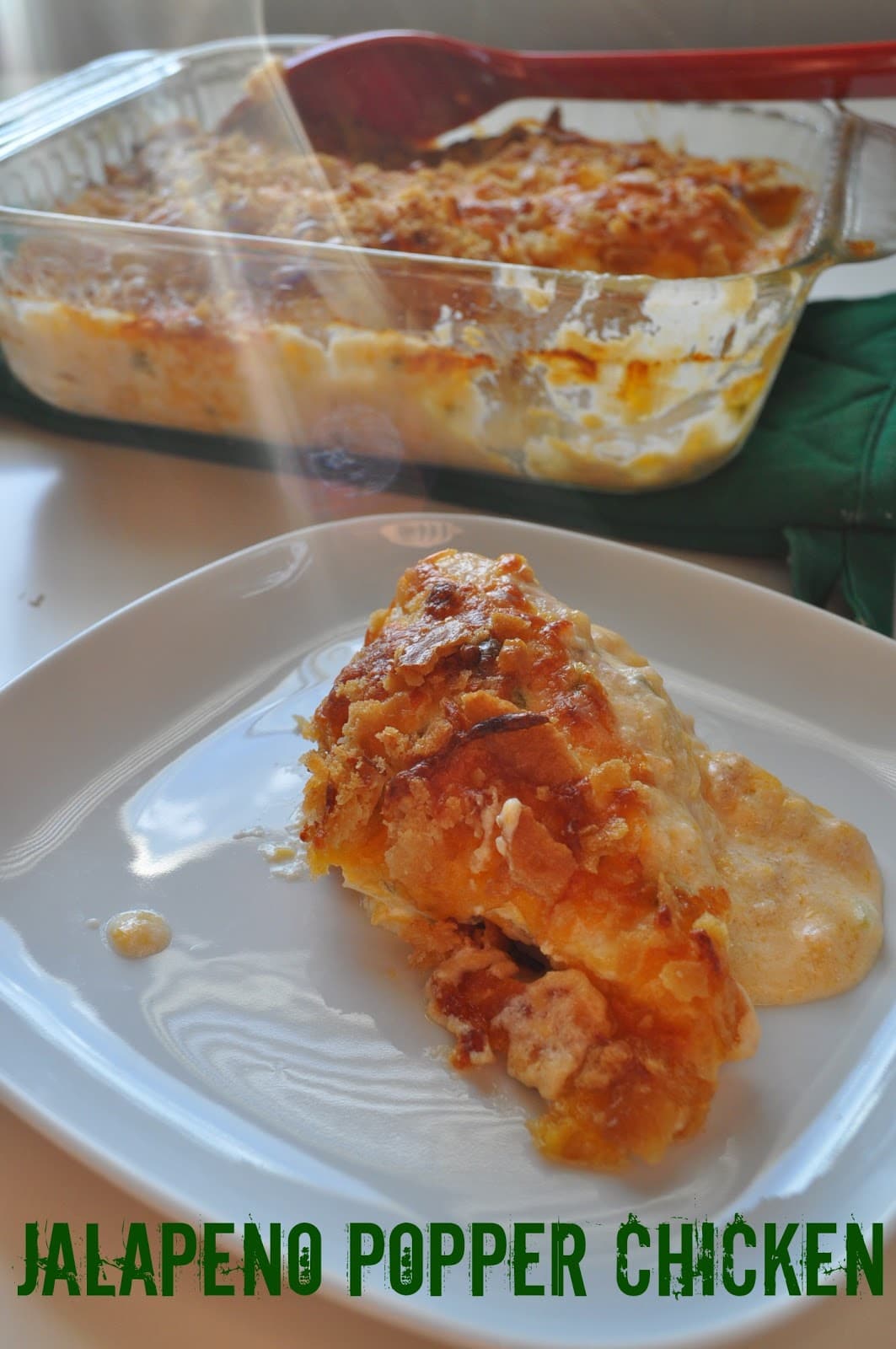 Jalapeno Popper Chicken!!!
I'm not a big jalapeno fan but this looked too good to not try. It is also easy! The crunchy topping on it makes the dish! You'll love it!
I bought three chicken breasts at Kroger but they were HUGE so I cut each of them in half to be sure they would cook in a decent time. First step is to season your chicken with salt & pepper and pop in the oven.
Every cooking show stresses the importance of seasoning – so I went to town with my salt & pepper grinder and seasoned the heck out of the bird.
While the chicken is pre-baking, you make your topping. I diced half an onion and one jalapeno and then sauteed it in butter. While letting that cool – I mixed up cream cheese, sour cream and cheddar cheese. After you stir that together, add in your jalapeno/onion mixture and stir again.
Remove the chicken from the oven after 30 minutes…
Top the chicken with your jalapeno/cream cheese mixture and then back in the oven for 10 minutes. You'll be drooling by this point – I promise.
While that's baking – make your crunchy topping. This is a tried and true favorite for crunchy topping. Crushed Ritz & cheddar cheese + melted butter. Yum.
I sprinkled the Ritz/cheese over the top and then drizzled the entire casserole with 1/2 stick of melted butter. Yum Yum Yum. Then back in the oven for 10-15 more minutes.
Out comes a delicious, crispy, buttery, creamy, spicy, cheesy dish of goodness. I'm not sure there's anything better!!!
Jalapeno Popper Chicken
Ingredients
3 chicken breasts, boneless and skinless
1 jalapeno, diced (add more if you want more spice)
¼ cup of white onion, diced
4-ounce plain cream cheese, softened
2 cups cheddar cheese, shredded
½ cup crushed savory crackers (we used Ritz)
4 tablespoons of butter, melted
Salt and pepper
1. Begin by preheating the oven to 425 F.
2. Place chicken (lightly seasoned with salt and pepper) in a casserole dish. Bake for 30-35 minutes.
3. During this time, you can prepare the first layer of topping. Saute the onions and jalapenos in butter and set aside.
4. In a mixing bowl mix cream cheese, sour cream and 1 cup of cheddar cheese together. Then add your onion & jalapeno mixture and mix.
5. Remove your chicken breasts from the oven and spread the topping on them. Return them to the oven at 350 degrees for an additional ten minutes.
6. During this time, mix your crunchy topping. Combine the crackers, 1 cup cheddar and melted butter. Sprinkle the mixture on top of the chicken. Return the chicken to the oven for an additional 10-15 minutes until the topping is golden.
Looking for other smothered chicken dishes? Check these out: