Before the holidays, we had a cookie exchange at work. I had never participated in one – but the team educated me on the process. (If you want tips on running a Cookie Exchange – there's a
cheap Kindle e-book for 99 cents
that I came across.)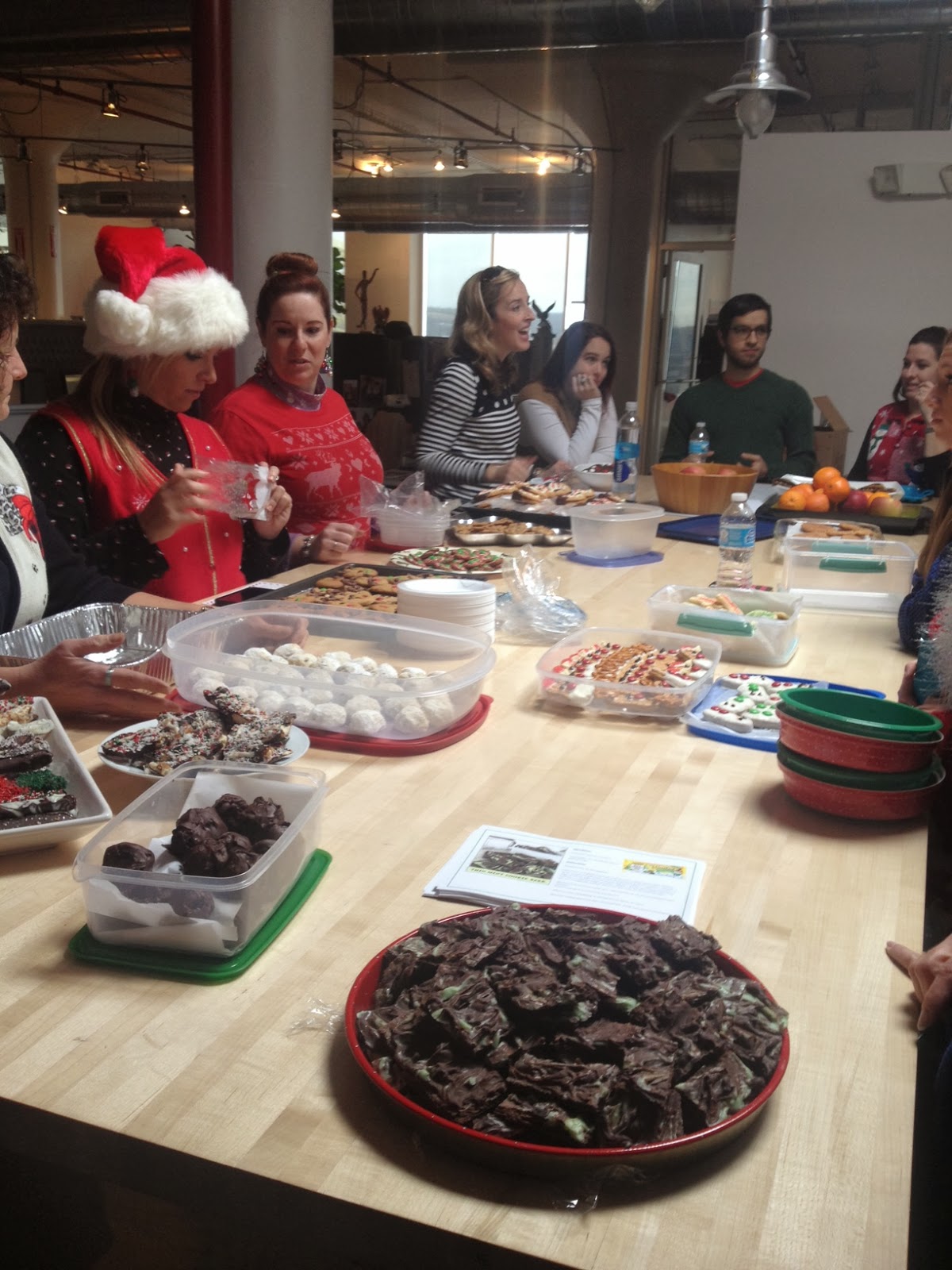 We all brought 2 dozen cookies – no store bought – and then did a round robin on the kitchen bar. A few people printed out recipes – but mainly it was just a chocolatey free-for-all!
It was pretty fun how creative everybody got – and the fact that no two people brought the same thing! Look at all this sweet wonderment! So what was my addition to the cookie exchange?
Oreo Balls!
My niece Catherine got in the mix for this one. I told her there was a smashing of Oreos and she jumped at the chance to take out some frustrations on the poor, unsuspecting Oreos (yes – using an ice cream scoop). Then mashing the dirt textured Oreo explosion with a package of cream cheese.
Roll into balls and dip into melted chocolate chips. The rolling was surprisingly easy – they held together well and were oily enough from the cream cheese that they didn't stick to your fingers.
The tough part was the chocolate – it melts really well – but the balls aren't really solid enough to dip. I recommend putting the cake balls in the fridge for 15 minutes to harden a little before dipping. Also – make sure your chocolate is right out of the microwave so it's at it's runniest.
While they weren't pristine and beautiful – they were chocolatey and delicious. I can confidently say – they were a hit!
My husband even commented, "Is this what cake tastes like?!" (he's allergic to eggs). Awwwwww! Yes it is honey – yes it is.

Oreo Balls
Ingredients:
1 package Oreos
1 block cream cheese, softened
1 package semi-sweet chocolate chips
Directions:
1. Place Oreos in a ziploc bag and beat/break/crumble to the consistency of dirt
2. Mix the softened cream cheese with the Oreos
3. Roll the Oreo mixture into 1″ balls
4. Refrigerate Oreo balls for 15 minutes
5. Melt chocolate chips in microwave – about 90 seconds
6. Remove balls from fridge and roll in melted chocolate
7. Set back in fridge for an hour to set