I have this pile of cooking tools that I need to try (perks of blogging) so now that my husband works on weekends – it gives me time to catch up on some of the cooking & baking I need to do!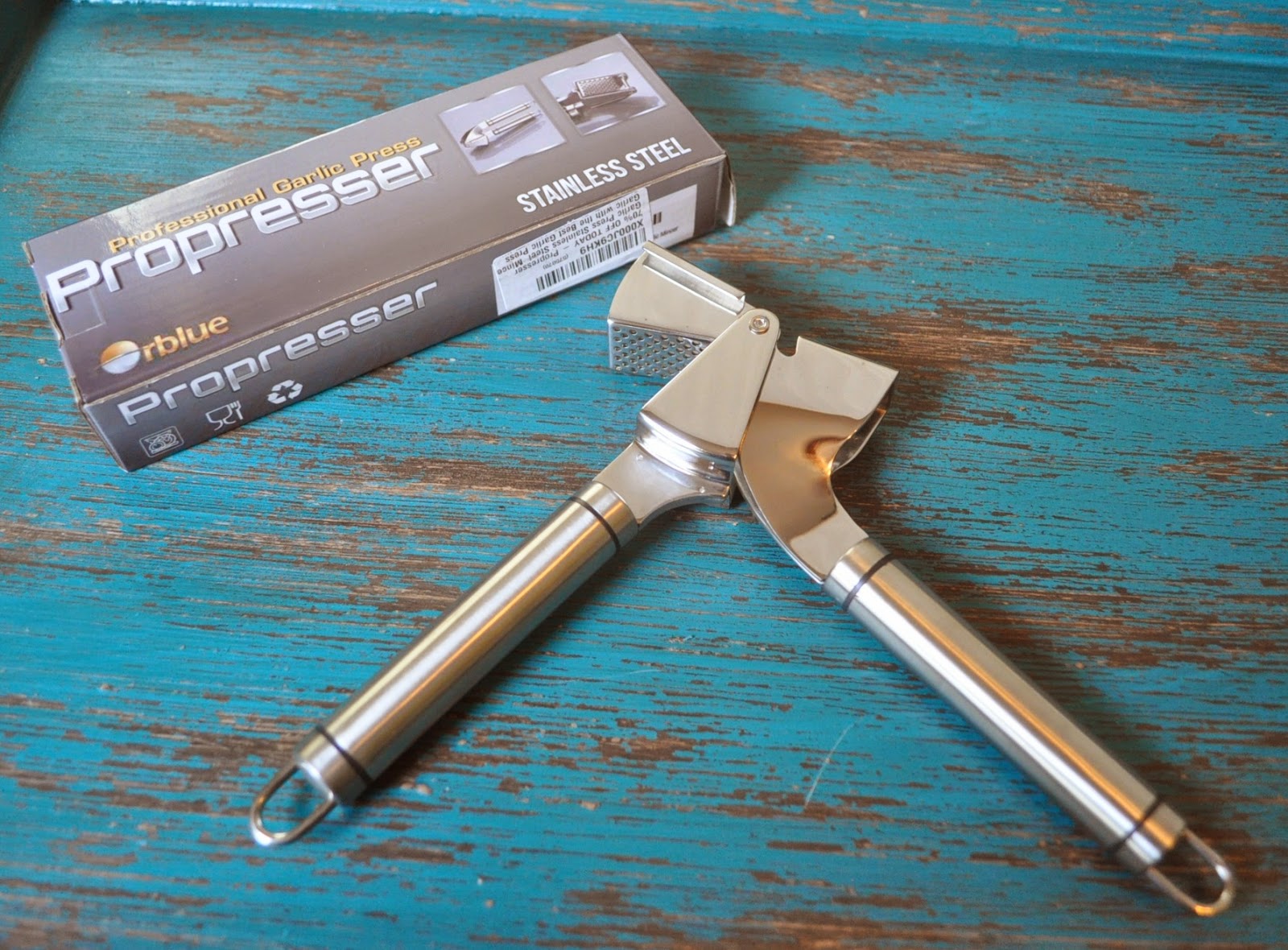 One I've been waiting to try is this
Garlic Press
($18.99). I remember having one when I was growing up – but for the past few years – I've just gone with the pre-minced garlic in a jar. I bought a sleeve of garlic at the store and was ready to go. This press is stainless steel and really well made. You also don't have to peel the garlic to use it – just pop it in and presto smusho – garlic!
I decided to make this Pan-Seared Steak recipe I found on Cooking Light – it has lots of garlic and would allow me to use one of my other blogging perks!
A Cast Iron Skillet from Brylane Home (comes in a set of 3 for just $25!)! I've been wanting to try a cast iron skillet for years and I can tell you – 2 weeks in – I'll never go back!
These are pre-seasoned which is nice – they heat up really hot and you can put them in the oven too.
The recipe was super simple – you sear the steak in a bit of oil – a few minutes on each side is all you need. I went with a really well marbeled strip steak.
Then you pool up melted butter and add in freshly minced garlic. I just pop the clove in and squish!
I minced right into the butter – it was sizzling and so smelled so good! You can use a fork or knife to scrape the extra garlic from the bottom of the press.
Then baste the steak with the garlic butter and you're good to go. After it's well basted – take it off the heat and let it rest for ten minutes. The resting allows all the juices to go back into the meat.
Cooking Tip: If you want to know how far done your steak is without cutting into it – it's all in your thumb! Use tongs and press on the center of the steak. Separately – feel how squishy the inside base of your thumb (right above your wrist – the meaty part). When you press on the steak – if it feels like the inside of your thumb – that's rare. Then as you fold one finger over – that's medium rare, two fingers is medium and so on. It really works! I've had perfect steaks ever since!
And there you have it – delicious Pan Seared Strip Steak – so delicious – and it was even from Cooking Light – so it's healthy! Woohoo!
Pan-Seared Strip Steak




Ingredients

2

(12-ounce) lean, grass-fed New York strip steaks

$

1 teaspoon

kosher salt

3/4 teaspoon

black pepper

1 tablespoon

olive oil

2 tablespoons

butter

$

2

thyme sprigs

2

garlic cloves, crushed
Preparation
1. Let steaks stand 30 minutes at room temperature.
2. Sprinkle salt and pepper evenly over steaks. Heat a large cast-iron skillet over high heat. Add oil to pan; swirl to coat. Add steaks to pan; cook 3 minutes on each side or until browned. Reduce heat to medium-low; add butter, thyme, and garlic to pan. Carefully grasp pan handle using an oven mitt or folded dish towel. Tilt pan toward you so butter pools; cook 1 1/2 minutes, basting steaks with butter constantly. Remove steaks from pan; cover loosely with foil. Let stand 10 minutes. Reserve butter mixture.
3. Cut steak diagonally across grain into thin slices. Discard thyme and garlic; spoon reserved butter mixture over steak.
Around The Web
'); script.type = 'text/javascript'; script.src = 'http://widget.crowdignite.com/widgets/31877?v=2&_ci_wid=_CI_widget_'+_CI.counter; script.async = true; ref.parentNode.insertBefore(script, ref); })();