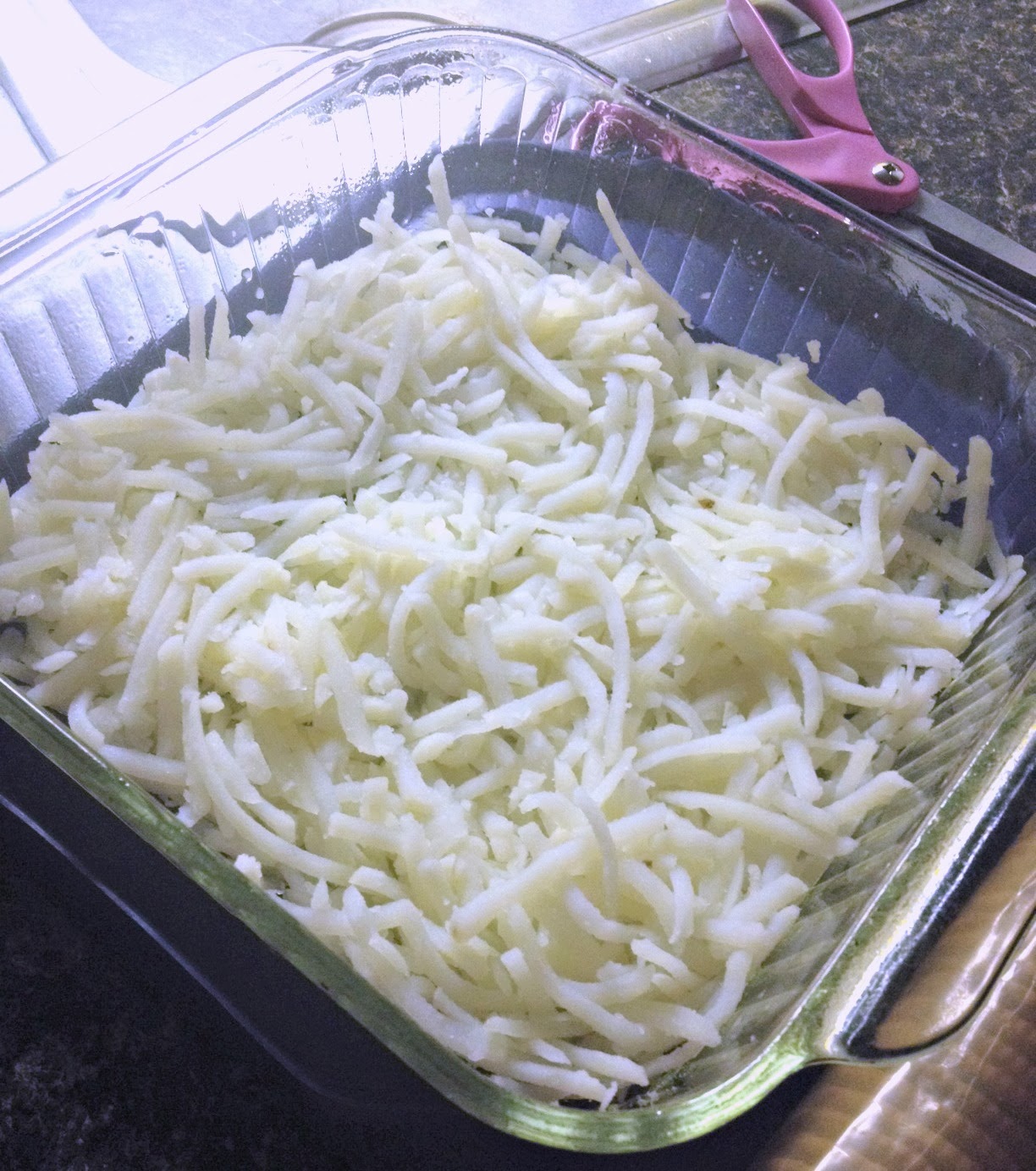 I had some leftovers from a crock pot ham recipe and decided to make a casserole with it. This was really simple and I found it using eMeals
– a meal planning service. You can choose what type of meal plan you want (low fat, paleo, etc…) and then you get recipes each week in your email and on your phone.
This one also used a partial box of Velveeta so I decided to try these Velveeta pouches! They were really easy to use and then I don't have the temptation of the box in the fridge.
You mix a few things together and then top the hashbrowns with it – and you're almost done. It's definitely comfort food.
Then crumble up some Ritz on top and drizzle a little butter on top.
Ta da! It was a good casserole and I really love ham in things (other than chicken or tuna). This was creamy and delicious. I might try and lose the ritz but reverse it and put the hashbrowns on top so they get brown.
Ham & Hash Brown Casserole
Ingredients:
* 10 oz can cream of mushroom soup
* 8 oz sour cream
* 1/2 (30 oz) package shredded hashbrowns
* 8 oz diced cooked ham
* 8 oz frozen cut broccoli, thawed & drained
* 4 oz velveeta packet
* 1/4 cup chopped onion
* 1/4 teaspoon pepper
* 1/2 cup coarsely crushed Ritz crackers
* 3 tablespoons butter, melted
Instructions:
* Preheat oven to 350 degrees.
* Spray 8×8 baking dish with cooking spray
* Spread hashbrowns over bottom of dish
* Stir together soup and sour cream in a large bowl
* Add ham, broccoli, cheese, onion and pepper to combine
* Spoon into dish, sprinkle with crackers
* Bake 45 minutes