Disclosure: I got this product as part of an advertorial.
I'm always trying to find ways to speed up meal planning and weeknight cooking. I don't get home until 6pm and then have to cook dinner – I just don't have time for fancy meals that take forever – on top of that – try and plan HEALTHY meals – oye! It's not easy!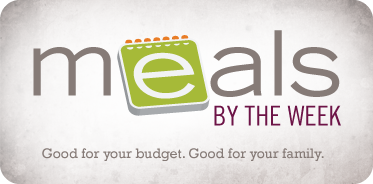 Recently I found out about
Meals by the Week
– an online meal planning service – and was provided a short-term subscription. I chose the 400 calorie meal plan (they have a variety of menus including store-focused ones based on sales each week).
It's pretty handy because you can choose if you're wanting to cook for 2/4/6/8 people – this is really great because if there's a recipe you know you'll like – you can bump it up so you have leftovers.

Here's the first recipe I chose to make – Garlic Balsamic Chops with Herb Roasted Potatoes and Sauteed Green Beans. I'm a big fan of Balsamic Vinegar and am always up for a meal where the whole thing is 400 calories!
The vegetables & potatoes were really simple to prepare – once they're all in bite size pieces – you toss them with olive oil & seasonings and throw them on a pan – boom – ready for the oven!
The recipe called for sauteeing the green beans separately but I decided to just put them all together. I also had some heirloom grape tomatoes that needed to be used up.
For the pork chops – combine
garlic, oregano, balsami vinegar, olive oil, salt & pepper and rub the pork chops with it. Then marinate for up to 12 hours.
I think the 400 calorie meal wasn't figuring in thick chops – but that's what I found at the store in a two-pack – so I was fine with that. It was definitely mouth-watering putting this recipe together.
I grilled these chops inside on the grill pan (it was raining). They were really delicious as were the vegetables. I would definitely make this recipe again!
All in all, I think
Meals by the Week
is a good value but you have to be disciplined enough to use it. I can't say that I use it religiously every week – but typically on Sundays – I bring it up and check the new menu and see if there's a couple of recipes that catch my eye as I'm writing up my grocery list.
Meals by the Week
provided me a 26-week subscription to give away to you! That's 6 months of meals pre-planned for you! You can choose your plan and everything.
I received one or more of the products mentioned above for free using Tomoson.com. Regardless, I only recommend products or services I use personally and believe will be good for my readers.