There are all sorts of meal and produce delivery boxes popping up – as is with any fad that works once – and I had a new one contact me to check them out. It's called
Farmbox Direct
– I really like that it has a wide delivery area –
Farmbox Direct has two types of boxes: Organic and Natural. They have 3 sizes: small, medium & large. Prices range from $34.95 to $60.95. So what did I get?
Pretty snazy video – right? Hey – I'm on
Periscope
now too – be sure to follow me @foodhussy!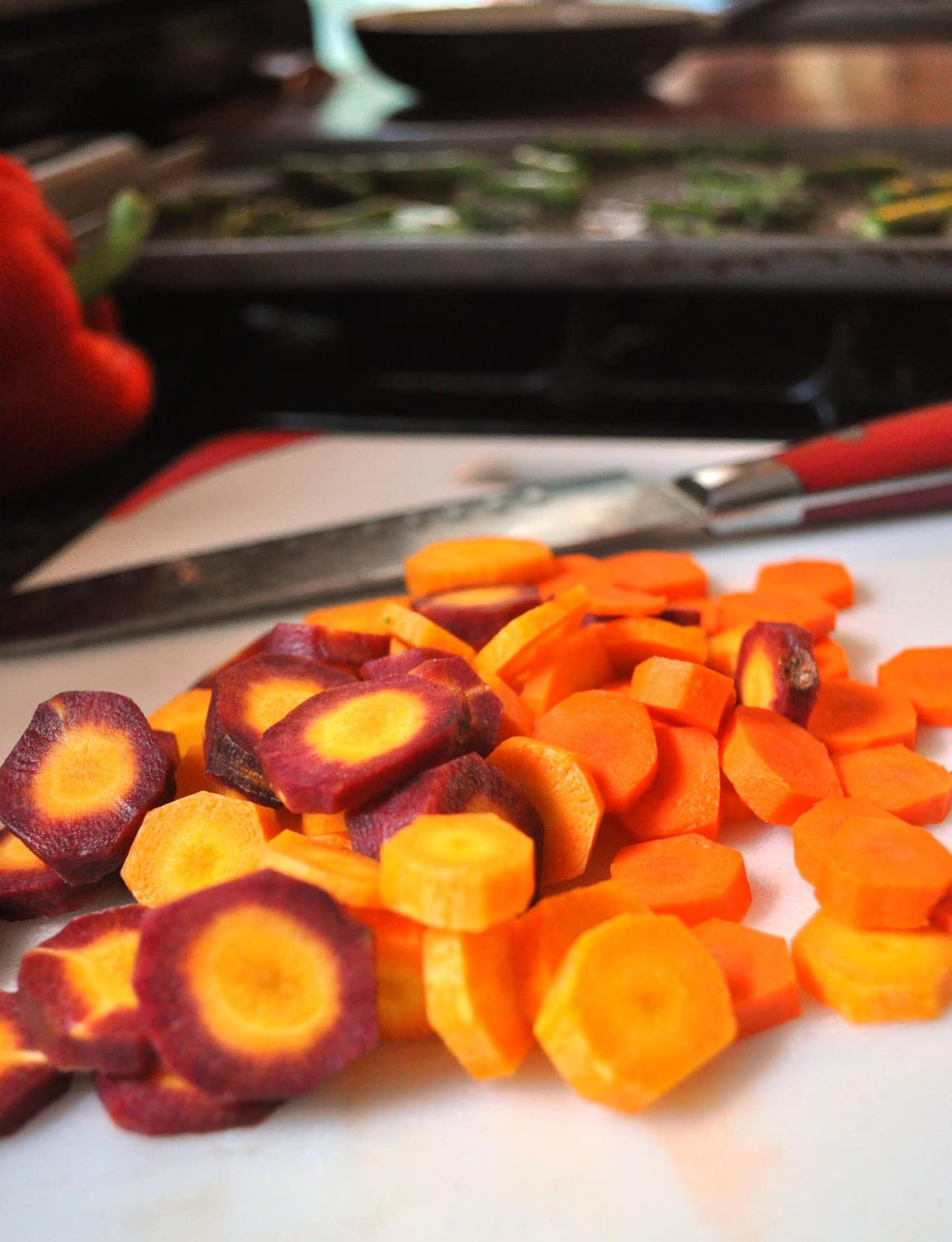 I got these really beautiful carrots and knew what I was going to do! Roasted vegetables! It's just when you have such beautiful veggies – it's a shame to not make something beautiful out of them!
Roasting veggies is so simple – you cut up all your veggies into like-sized pieces. You want them all about the same size so they cook evenly. Spread them out on a pan and preheat the oven to 425. I then drizzle olive oil and balsamic vinegar on the veggies – toss them a bit – then drizzle again. Sprinkle with coarse sea salt and you'r ready to go!
AREN'T THEY GORGEOUS?!
I had the beautiful carrots, red pepper, asparagus and green beans. I cooked them for 20 minutes or until fork tender. My oven sucks – so I'm always having to raise the temp to keep it to hold heat.
I had some chicken breast left over – so I grabbed a saute pan quick and sliced the chicken and heated it up in a touch of olive oil. I could have microwaved but the stove made it feel fresh-cooked. Then I piled on some roasted veggies and went to town. The veggies were great and they were juicy enough with the olive oil & balsamic vinegar that you didn't need anything else with them.
Super healthy and happy chicken with roasted vegetables. Yum!
Easy Roasted Vegetables
Ingredients
Chopped Vegetables – Peppers, onions, asparagus, green beans, carrots, broccoli, mushrooms, brussel sprouts, etc.

Olive Oil

Balsamic Vinegar

Sea Salt

Pepper
Cooking Directions
Chop vegetables all to a like-sized bite size
Preheat oven to 425
Spread vegetables on shallow baking pan
Drizzle veggies lightly with oil, vinegar and salt
Stir the veggies to coat all sides
Drizzle again with oil, vinegar and salt
Bake for 20 minutes or until fork tender
Thanks to Farmbox Direct for the free box. All opinions in this blog are my own.