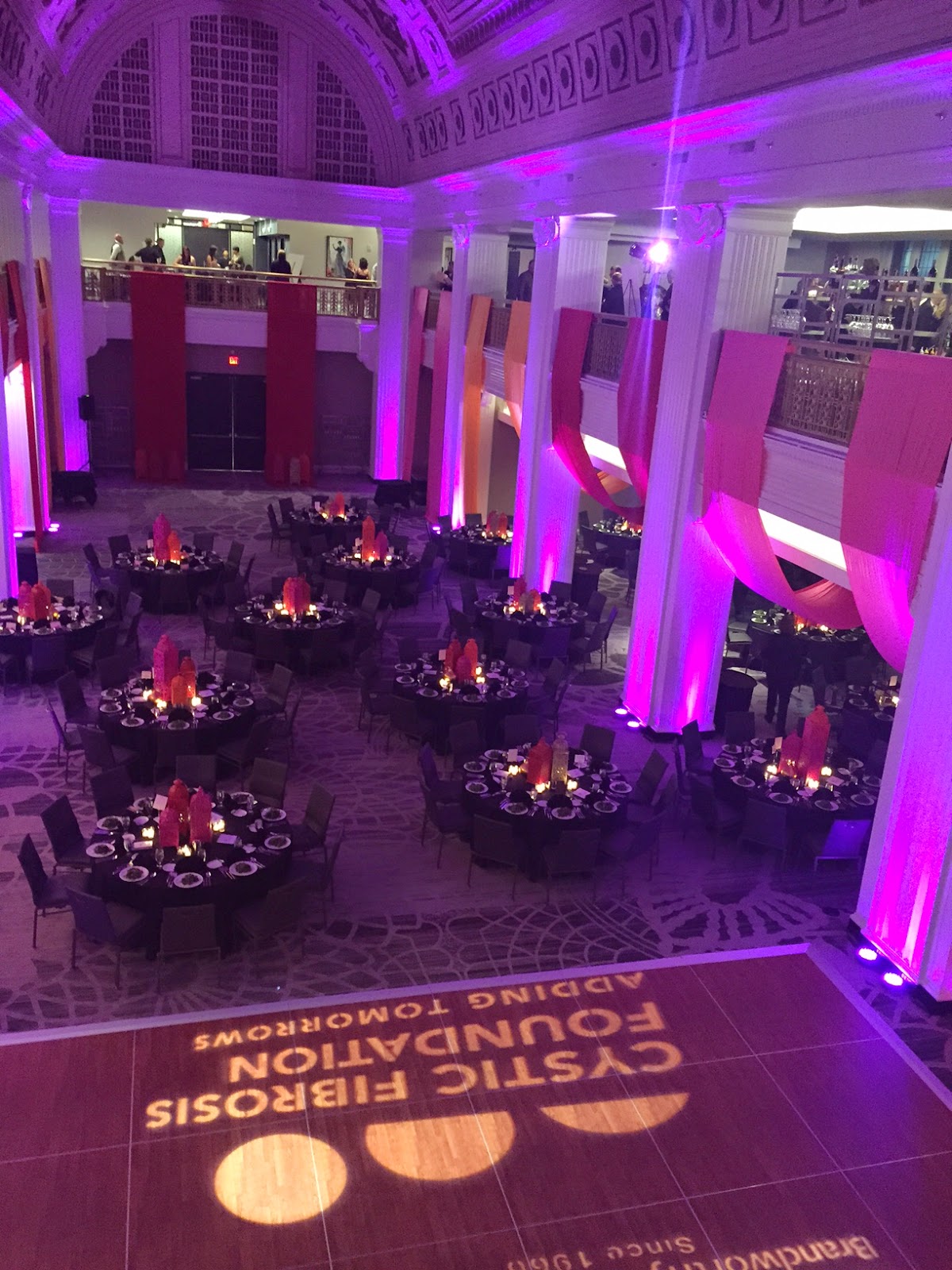 The theme this year was Arabian Nights and the ballroom was beautiful. This hotel is impressive (we'll discuss more of that later). The gala itself was informative and fun.
The speakers were Greg & Matt Basham. Matt is a Cystic Fibrosis patient and Greg is his dad. It was really great to hear this teen speak from the heart about how much the advances in the search for a cure for Cystic Fibrosis have meant to him and his family. Without these advances, Matt would likely not be alive.
Another moving story from the evening was that of the Brady family. They have lost three children to Cystic Fibrosis – one at age 8 and two others at the age of 37 each. They're so resilient and giving. One of the items up for auction that night was dinner in their home – to meet with them and find out more about their story.
They had a belly dancer shimmying around the entire night – she had most costume changes than Cher and lots of people were having fun and enjoying her. I was more enjoying the hotel – it's beautiful and they have the coolest furniture! We found these big circle chairs up on the 3rd floor and couldn't help but take some pics in them. But on the first floor were these captains chairs with George Clooney pillows! I always knew I'd snuggle him some day. 🙂
I'm obsessed with these light fixtures! It really looks like a bunch of clear pink shower rings – I might have to do some DIY for a copycat of this!
For each of the course of the meal a local meat producer provides a type of meat and then local chefs create something amazing out of it.
Fresh Sausage Specialists provided the bratwurst for the Shakshuka & Rilletes appetizer. This reminded me of a french brunch dish I had years ago in Denver. They had marinara with sausage and eggs which is pretty similar to this. There's a little quail egg (I think it's quail) on the top. Nobody else at the table liked this but it was my favorite. I'm sharing the recipe at the end of this post.
Birchwood Foods provided the Red Onion patties for the Schwarma Sliders. These sliders had creme fraiche as well as a cucumber onion mixture on the side. This was probably the most liked course at our table.
We also had Braised Lamb Volcano Shank with Lamb Shank from Sugar Creek Packing. This was fine but it was a bit dry and the couscous was pretty bland.
For dessert we had poached pears with pork belly.
(recipe provided by Fresh Sausage Specialists)
1 lb Bratwurst
3 T blended oil
1 medium yellow onion, chopped
1 large green pepper, seeded & finely chopped
1 large jalapeno, seeded & finely chopped
1/4 cup tomato paste
6 cloves garlic
24 oz can crushed tomatoes
1 Bay leaf
3 T sugar
1 T Hungarian Paprika
1 T cumin
1 1/2 tsp ground caraway seeds
1 bunch of Swiss Chard, washed & chopped
8 eggs
For the Shakshuka
* Heat oil in a large skillet. Add onions and cook until translucent.
* Add pepper and cook until soft
* Fold 5 garlic cloves and tomato paste into saute pan until bitterness is cooked out of tomato
* Add sugar, paprika, bay leaf, cumin and caraway to pan and simmer for 25 minutes
* Place swiss chard on top of contents of pan – do not mix in.
* Crack 6 eggs into the pan on top of the swiss chard – do not mix in
* Contents of pan should be layered
* Cover and simmer until egg whites are completely cooked
For the Rilletes
* Place 1 lb of bratwurst in mixing bowl
* Add 1 T of garlic and 2 eggs to sausage and mix
* Roll into nickel sized meatballs and sauteee Rilletes in pan with a small amount of oil
* Add the Rilletes to the Shakshuka once cooked thoroughly