We love crab – it's our favorite seafood – so I'm always looking for recipes with crab. I found one on Pinterest for Crab & Shrimp Enchiladas and it was perfect!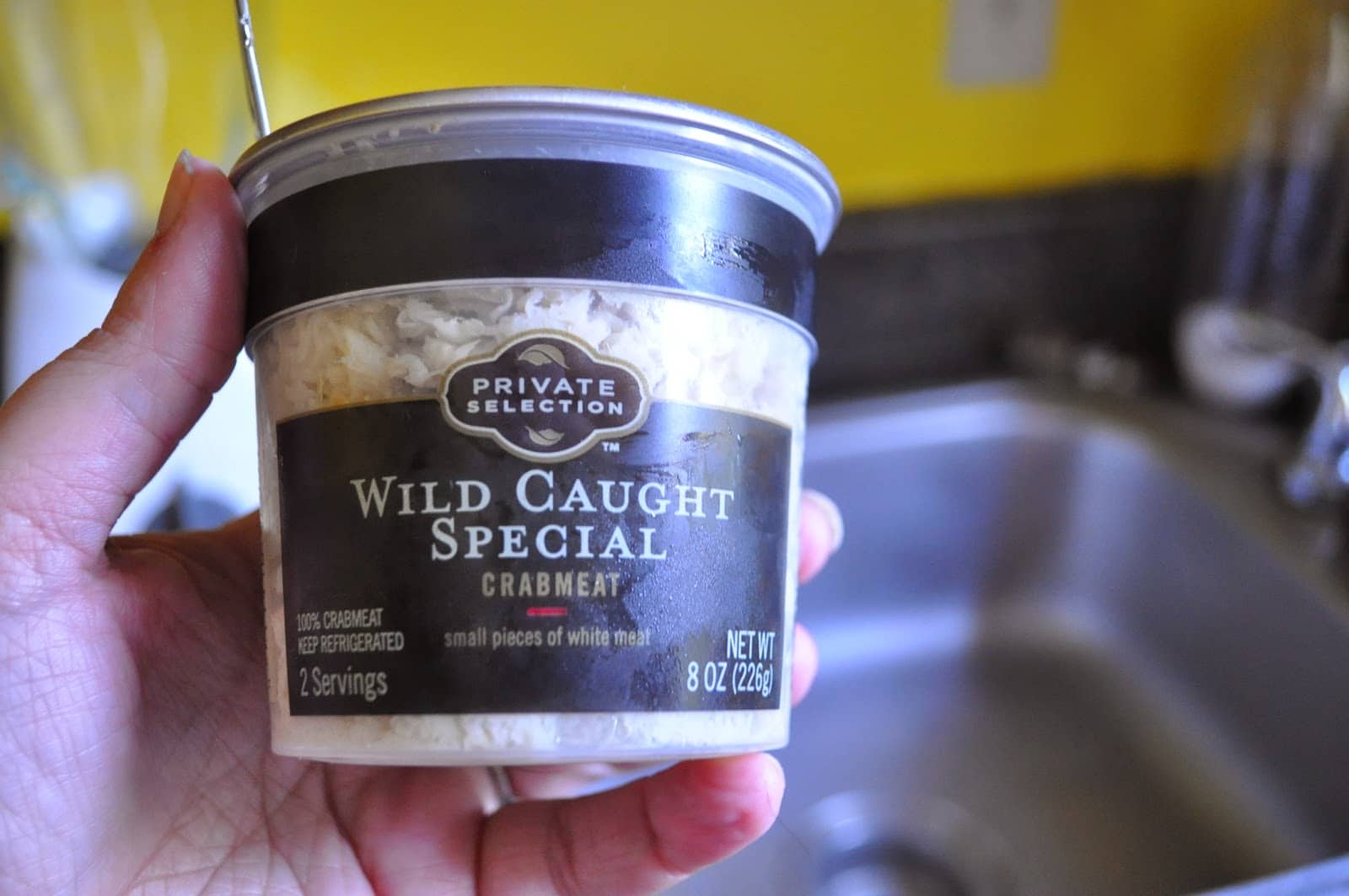 I found crabmeat at Kroger in these small containers – I definitely didn't want to use canned so this seemed to be a cross between fresh and canned.
It's very simple to make – mix together crab, salad shrimp (99 cents a bag at Kroger), black beans, salsa, sour cream and cheese.
Looks pretty tasty – right?!
I used one of these silicone measuring cups to scoop up the filling – they're pretty handy because you can squeeze them out into your container.
I used the small flour tortillas and will freely admit – I'm the worst enchilada maker in the world. I make a taco, then fold it over and put it in the pan fold-side down. They always loosen up and fall apart – but hey – still edible – right?
I actually made the full recipe and had plenty of leftover filling – so I decided to make two pans. Otherwise I'd end up eating them for 10 days. For the 2nd pan – I made a casserole in my cast iron pan. I just laid tortillas on the bottom of the pan – then filling – then tortillas on the top again.
Once that was ready – it was time to make the sauce. I melted butter and whisked in flour and chicken broth. I think my butter melted a little too much because the sauce quickly turned brown. It doesn't look the best – but I tasted it and it was yummy – so I went with it. You mix in spices and keep it simmering.
Then add in cheese and half and half. I went with a Mexican enchilada cheese – and I'll tell you – it doesn't melt for crap! No matter how much you whisk, stir, simmer – IT DOESN'T MELT! It breaks apart but doesn't really completely melt into the sauce – I just had to deal with it. So my sauce was brown and not very cheesy looking – but again – with a quick spoon – it still tasted good – so I went with it.
I actually had cooked the cast iron pan that night and it was really yummy! I threw some cheese on top as well – to make it more cheesy. The filling was delicious – thankfully – since I had a whole other pan in the freezer!
The freezer pan also turned out great. I had it in there for a few weeks before pulling it out and baking it – still tasted great! I wasn't really sure how it would freeze but luckily it turned out great.
Ingredients:
16 oz. can seasoned black beans, drained and rinsed
6 oz. can lump white crab meat, drained
2 c. frozen, fully-cooked salad shrimp (no need to thaw)
½ c. salsa, divided
1-1/2 c. shredded Mexican blend cheese, divided
½ c. sour cream
2 tbsp. butter
2 tbsp. flour
½ tsp. chili powder
¼ tsp. ground cumin
pinch of kosher salt
1-1/2 c. chicken broth
¼ c. half and half
8 corn or flour tortillas
Instructions:
Preheat oven to 375 degrees F. Spray a 9 x 13″ baking dish with cooking spray.
In a medium bowl, stir together beans, crab, shrimp, ¼ c. salsa, ½ c. cheese, and sour cream. Spoon about ⅓ c. of this filling down the center of each tortilla, fold sides to the middle to cover filling, and place rolled enchiladas seam side down in the prepared baking dish. Enchiladas should fit tightly together in the pan.
Melt butter in a skillet over medium heat. Whisk in flour until combined. Slowly add chicken broth about ¼ c. at a time, whisking constantly to keep mixture smooth. When all chicken broth is added, bring to a simmer. Stir in chili powder, cumin, salt, ½ c. cheese, ¼ c. salsa, and half and half. When cheese is melted, turn off heat and pour sauce evenly over prepared enchiladas.
Cover dish with foil, and bake for 30 minutes. Remove foil, and sprinkle remaining ½ c. cheese over the top. Bake an additional 5-10 minutes until cheese is melted and bubbly.