Larry & I love love love salmon. It's one of our favorites and it's Larry's typical go-to when we eat out. That said – I like to find creative ways to make it at home to save money and make dinners a little more special. Salmon was on sale at Kroger last week so I snapped up a large filet of it!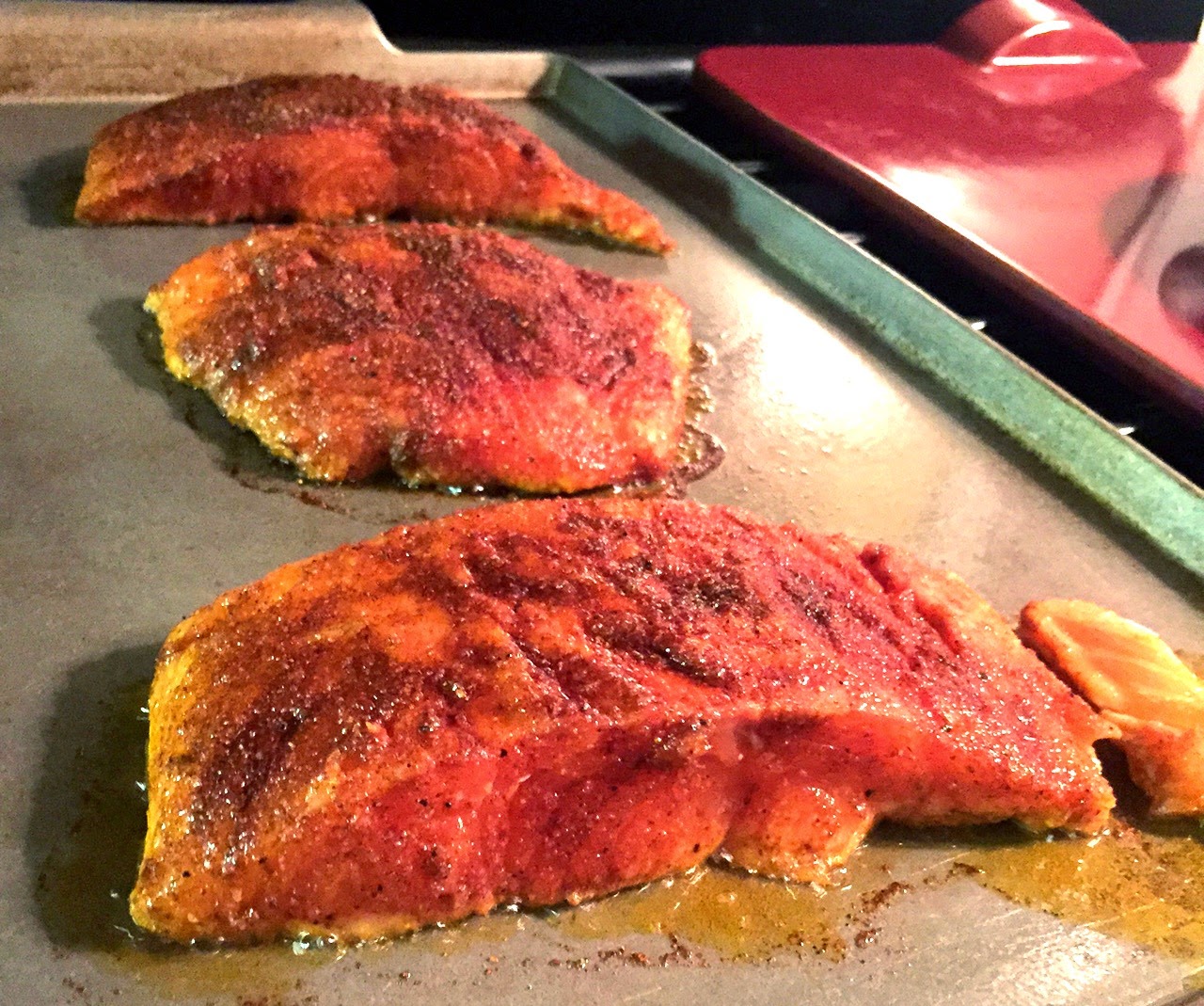 I found a great recipe online for a spice rub on salmon and put that together – it has cumin, paprika, onion powder and chili powder. I thought that would be really tasty – a little spicy – and then have a sweet potato with it – that's Larry's other favorite. I think he could eat sweet potatoes every night!


You could grill or bake the salmon. I have a grill pan and decided to go that route. I put it on top of the two gas burners on my stove. I grilled it for probably 3-4 minutes on each side.



Once the salmon was ready – I popped my sweet potato out of the microwave (love that) and topped it with butter & brown sugar.
Last week I made sauteed shrimp with an avocado aioli – I had some of the shrimp & aioli left over and decided to add it to my salmon and see how it paired up. It was delicious! I love sauces and this was great – the cool avocado aioli mellowed out the spiciness of the rub. The shrimp were just a bonus. 🙂
Larry couldn't have the aioli because of his egg allergy – so he had the salmon plain. We had some left over and he took it to work. He actually called me from work to tell me how much he liked it. That is a rarity and really screams SUCCESS! It was super simple too – so that's always a plus!
Spicy Grilled Salmon


1.5 lb salmon
1 T Olive Oil
1 tsp salt
1 tsp cumin
1 tsp paprika
1 tsp onion powder
1/2 tsp chili poweder
1 tps black pepper


1. Mix spices together in a bowl.
2. Slice your salmon into filet-sized pieces.
3. In a baking dish, coat the salmon with with olive oil. Then rub the spice rub on both sides of the salmon (if it has no skin – if it has skin – just the non-skin side). Cover and refrigerate for 30 minutes.
4. Heat your grill pan and spray with non-stick spray.
5. Grill salmon for 3-4 minutes per side to desired doneness.


You can then top with your favorite sauce – like my avocado aioli – or just have it plain. Larry's convinced that topping it with brown sugar would be great too!
Salmon inspired by TheCookieRookie.com.