I have a habit with magazines to tear out the recipes that I want and then put them in a big pile…and there they sit. So I went through a pile recently and pulled some out I really wanted to make – first up: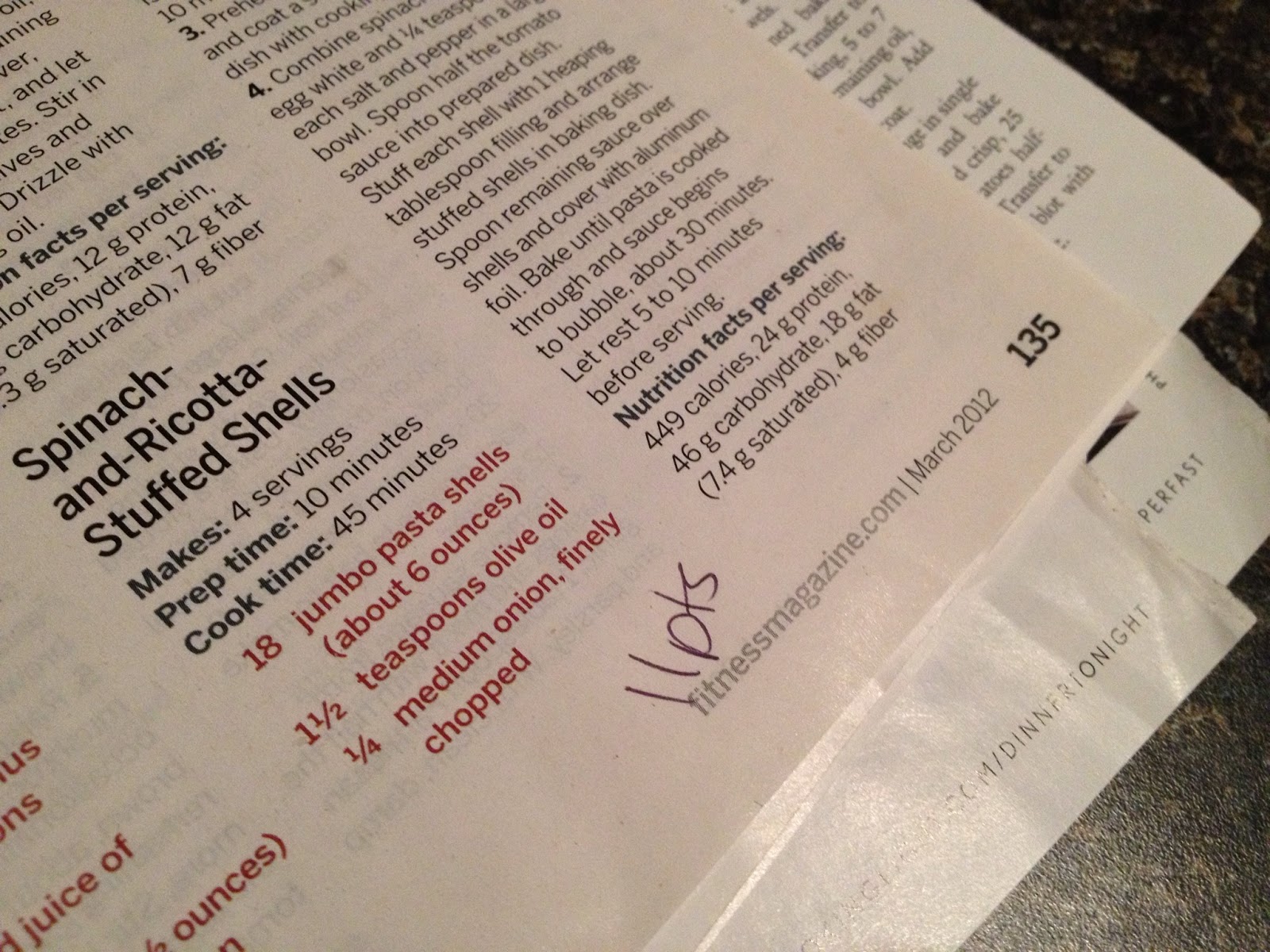 Spinach & Ricotta Stuffed Shells!
It's really easy and only takes 10 minutes (or so) of prep time. You cook shells and while those are boiling – you cook up a mixture of chorizo and onion – then you add tomatoes, sugar, salt & pepper – simmer and done. Chorizo is not the easiest thing to find – at Kroger I had to settle for a Johnsonville brand :-(.
Then you mix up ricotta, mozzarella and spinach – the recipe calls for an egg as a binder – I just added a tiny bit of water – it worked just fine. This was raw spinach as well – once you start mixing it with the cheeses it flops down very quickly.
Then you stuff the shells with the spinach & cheese mixture…
Top with your tomato/chorizo mixture and bake!
This was delicious! I will definitely be making this dish quite a few times. The chorizo was a nice change from just using normal hamburger or italian sausage. I was so excited for the leftovers as well! Mmmm mmmm good!
Spinach & Ricotta Stuffed Shells
Ingredients
18 jumbo pasta shells
1 1/2 tsp olive oil
1/4 onion, diced
4 oz chorizo, crumbled
1 15 oz can crushed tomatoes
3/4 tsp sugar
1/4 tsp salt
1/4 tsp ground pepper
Olive oil cooking spray
2 cups (2 oz) baby spinach, finely chopped
1 cup low-fat ricotta
1/2 cup shredded part-skim mozzarella
1 egg white, lightly beaten
Directions
1. Cook shells according to package directions; rinse under cold water, drain and dry
2. Meanwhile, heat oil in a large saucepan over medium heat. Add onion and chorizo & cook until browned about 5 min. Drain all but 1 1/2 tsp drippings and return to stove. Add tomato & sugar and season with salt & pepper to taste. Simmer until sauce is slightly thickened, about 10 min. Set aside.
3. Preheat oven to 375 and spray 9×9 baking dish with cooking spray.
4. Combine spinach, cheeses, egg white and 1/4 tsp salt & pepper in a large bowl. Spoon half the tomato sauce into the prepared dish. Stuff each shell with 1 heaping tablespoon filling and arrange stuffed shells in dish. Spoon remaining sauce over shells and cover with foil. Bake until pasta is cooked through and sauce begins to bubble, about 30 minutes. Let rest 5-10 minutes before serving.