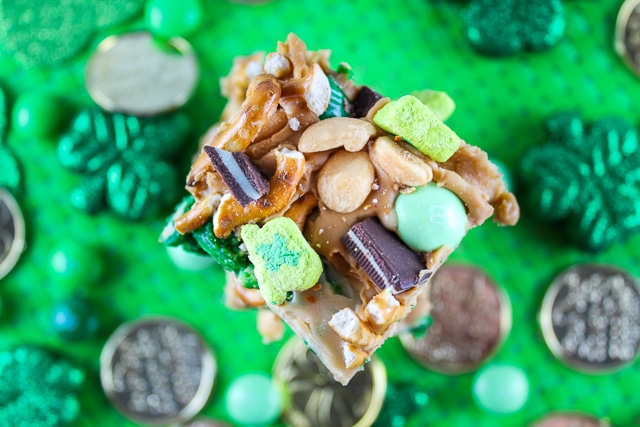 It's the same recipe – but I just took everything I could and made it green and minty! It's still delicious and rich – but has a cool minty freshness. I took these to my neighbor's house and the kids were instantly smitten! They both came running and said they wanted dessert first! (Mom vetoed that one!)
Now you could also add food coloring to the peanut butter topping – but I like the contrast of the colors. And the toppings are really up to you – use stuff in your cupboards if you have extras! I went on the search for all the fun I could find and got dark chocolate mint m&ms, peanuts, pretzels and Andes baking mints. Then I thought – oooh – what about my Lucky Charms?! So I popped open the box and pulled a dozen marshmallows out to put on top!
This delicious dessert will get gobbled up so fast – you'll think leprechauns snuck in and stole it!
Yield: 12
St Patrick's Day Cookie Fudge
This St Patrick's Day Cookie Fudge will have you feeling like you found your pot of gold! It's my delicious recipe for Felon Fudge modified to be lucky, green and minty! It's refreshing and rich – you'll love it!
prep time: 20 mins
cook time:
total time: 20 mins
instructions
Separate Oreos cookies from cream center – scrape the cream filling into a separate bowl and put the cookies into a gallon zipper freezer bag
Add creamer to the cookies and break up cookies and mix with creamer until it gets to a thick consistency that could be patted down
Add food coloring to broken up cookie/creamer mix until the desired green color
Line pan with a sheet of parchment paper so you can pull the fudge out by picking up the paper
Pat cookie/creamer into the bottom of the pan
Add peanut butter to cream centers and microwave for 1 minute (stir at 30 seconds)
Pour peanut butter mixture over top of cookie bottom
Top with remaining ingredients
Refrigerate for one hour