This post is sponsored by Thomas' Breads and all opinions are my own.
I'm not much for specialty breads – except when it comes to swirly breads! I love them – it makes toast into a dessert! And now – I found a way for it to make french toast even better!!! Why? Because today is National French Toast Day!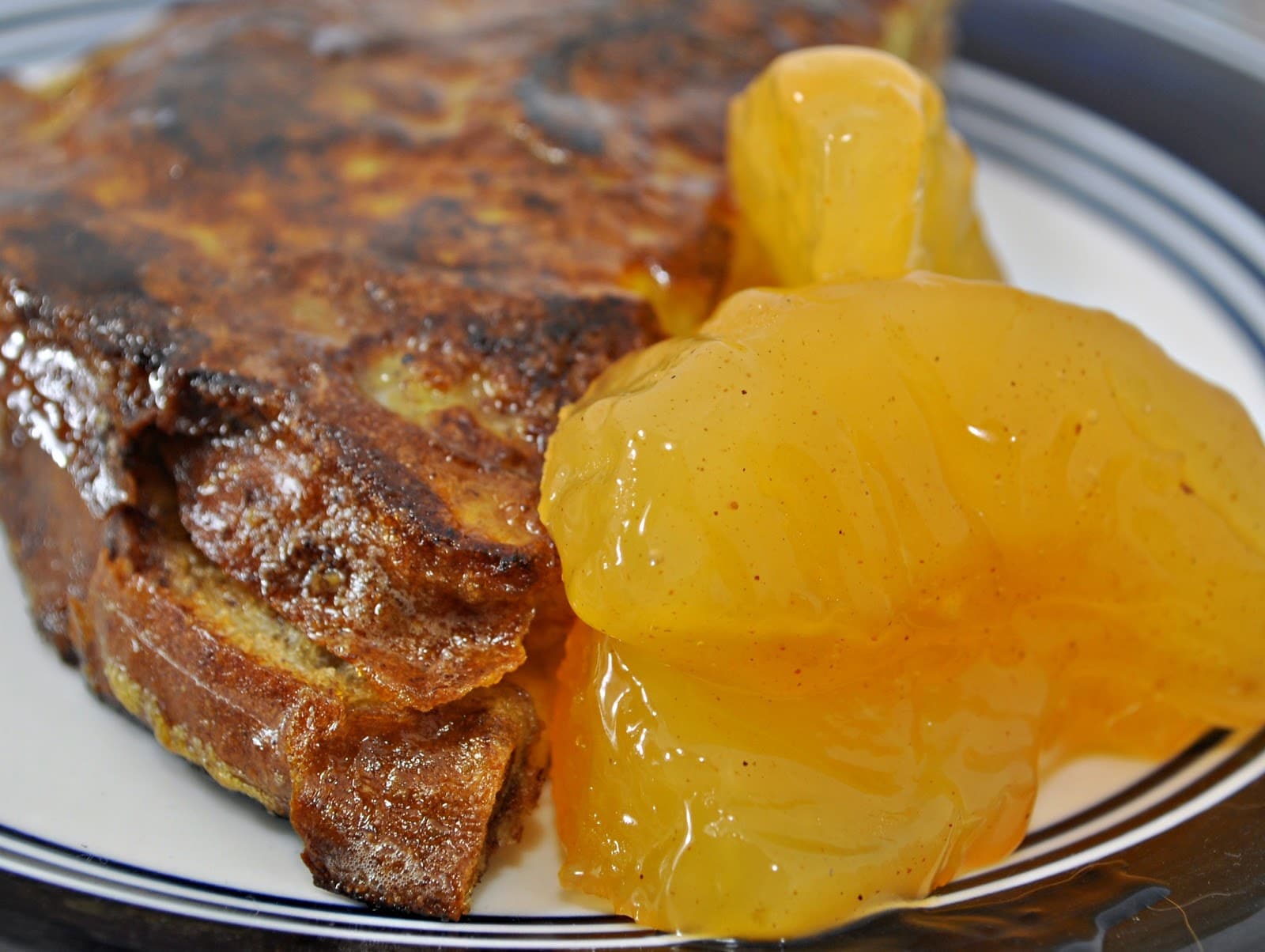 Thomas' Breads have three kinds of swirl bread out right now: Cinnamon, Cinnamon Raisin and Cranberry. I made a Thanksgiving Leftover Dip last week with the Cranberry bread.
But with the Cinnamon bread – I wanted to try something fun for National French Toast Day! So I made Stuffed French Toast with apple pie filling. It was super easy – which is always the way I roll. All you do is take Cinnamon Swirl Bread and then put pie filling in the middle – smush the edges and french toast it up!
You can serve this all sorts of ways – with powdered sugar, extra apple pie filling or syrup. I always love syrup – of course – but I was going to try powdered sugar but we didn't have any.
This is such a simple recipe and yet it's so much better than plain French toast. You only need to add one ingredient and blamo – you have fancy breakfast! Here's a fancier version that uses Apple Chutney – but you know me – I go to the cupboard first – and I had apple pie filling so that's what I used.
Swirly Apple Stuffed French Toast
2 Tbsp Apple Pie Filling
2 pieces Thomas' Cinnamon Swirl Bread
1 Egg
1/8 cup Milk/cream/half & half
Dash Vanilla
Dash Salt
Dash Pepper
– Heat a skillet on medium with cooking spray or butter
– On a cutting board, top one slice of swirl bread with apple pie filling
– Top with 2nd piece of bread and pinch the edges together. They won't really stay together – but do the best you can
– In a bowl, wisk together egg, milk, vanilla, salt & pepper
– Dip apple stuffed sandwich in the egg mixture on both sides and add to hot pan
– Cook for approx 2 minutes until brown and flip for another 1-2 minutes on the other side
– Remove from heat and top with powdered sugar or syrup