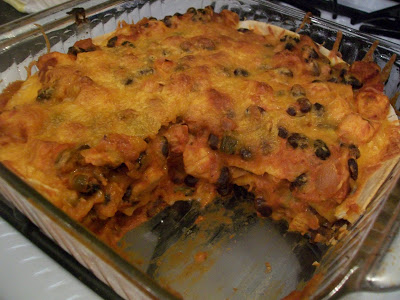 I wasn't planning on writing this one up – until I took a bite. Then I knew I had to share!
This was so incredibly easy to make – which is one reason to love it – just put something in the pan – then 2 minutes later – put something else in the pan. Lather, rinse, repeat.
What a great find – and the best part is the tortilla parts not covered by chicken & cheese goodness – they get crispy! It's like a Mexican lasagna and we loved it. Top with sour cream and you're golden!
Mexican Chicken Casserole – KraftRecipes.com
What You Need
3/4 lb. boneless skinless chicken breasts, cut into bite-size pieces (I used breast & thighs – we always have a bag of each in the freezer)
1 green pepper, chopped (I used yellow – tasted great in there – sweeter)
1-1/2 cups jar Salsa (I used Aldi – again – fantastic)
2 oz. (1/4 of 8-oz. pkg.) Neufchatel Cheese, cubed
1 can (15 oz.) no-salt-added black beans, rinsed
1 tomato, chopped (they aren't in season – so I didn't use – didn't miss it either – the salsa had plenty)
2 whole wheat tortillas (6 inch)
1/2 cup Shredded Cheese, divided
HEAT
oven to 375ºF.
COOK
and stir chicken and cumin in nonstick skillet sprayed with cooking spray on medium heat 2 min. Add peppers; cook 2 min., stirring occasionally. Stir in salsa; cook 2 min. Add Neufchatel; cook 2 min. or until melted. Stir in beans and tomatoes.
SPOON
1/3 of chicken mixture into 8-inch square baking dish; cover with 1 tortilla and half
each
of the remaining chicken mixture and shredded cheese. Top with remaining tortilla and chicken mixture; cover.
BAKE
20 min. or until heated through. Sprinkle with remaining shredded cheese; bake, uncovered, 5 min. or until melted.
Top with sour cream & guac (if you have it) – DELICIOUS!