Eating healthy is not always easy – especially when you go out to eat for lunch almost every day! I was recently on the lookout for soup recipes and came up with this
Ultimate Veggie Soup
.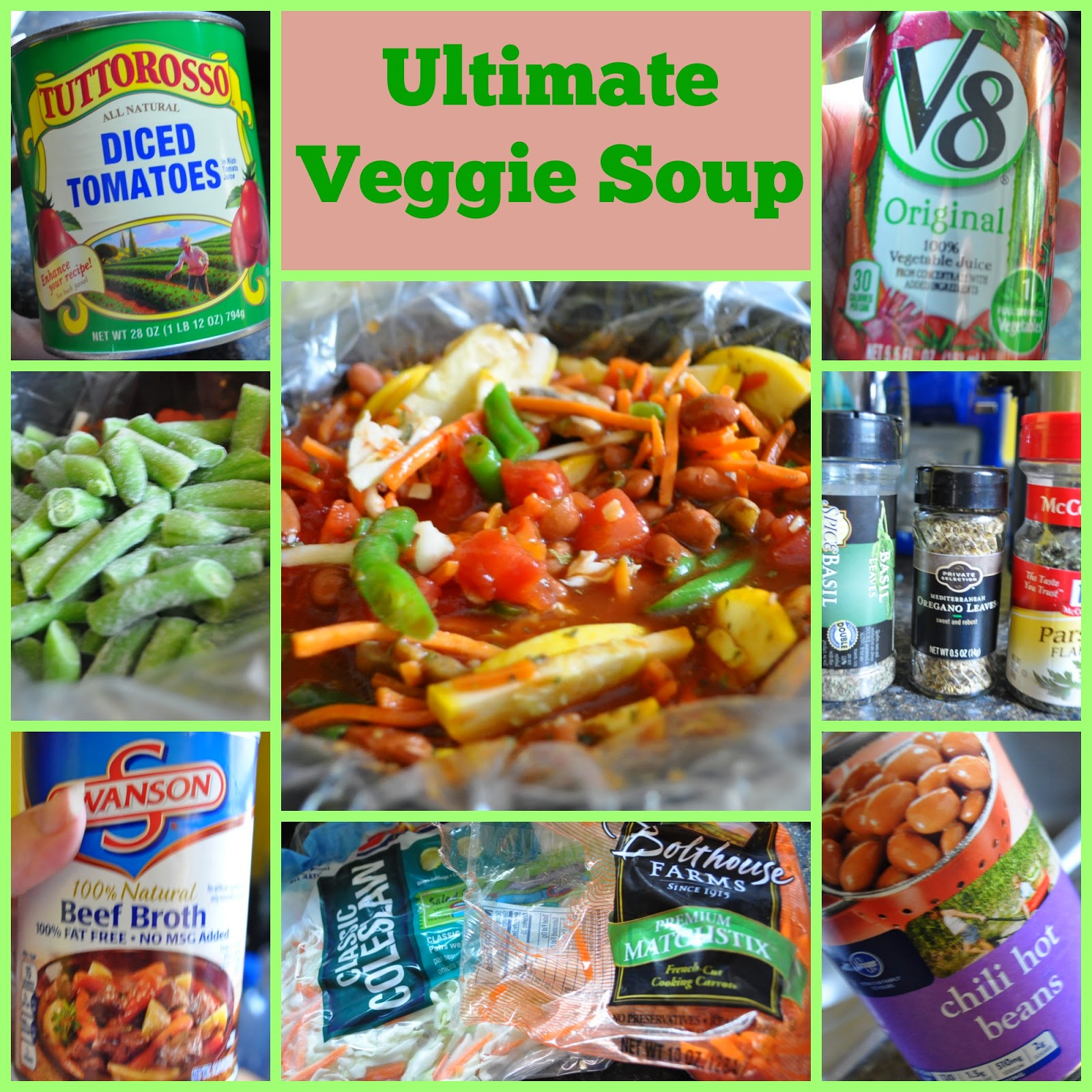 You really just put every vegetable in your house in a crock pot and go to town! It's very chunky and the veggies have so much flavor you don't even miss the meat!
One of the key ingredients is the Tuttorosso tomatoes. I chose the diced tomatoes. Tuttorosso means "all red" in Italian and these tomatoes definitely are. They are made by the great folks at Red Gold and have a pretty extensive recipe collection on their site – if you're looking for something specific.
Before everything goes in the crockpot – sauté a few of them vegetables that might need a little extra cooking. I did the carrots and mushrooms in a bit of garlic & olive oil. Then into the crock pot with everything else!
I put it on one Sunday evening so I had it ready for work the next day. This would be great to make smoothies out of too – pop in a blender and you've got a healthy drink – with double the veggies (V8 + more veggies!!)
This recipe does make a LOT of soup – but it freezes easily as well.
Ultimate Veggie Soup


Ingredients
2 cloves minced garlic

1 package sliced mushrooms
1 cup shoestring carrots
2 T Olive oil
1 can beef broth

3 small cans V-8 juice

1 28 oz can Tuttorosso diced tomatoes

1 yellow squash, diced

2 cups frozen green beans
1 can chili beans
2 cups shredded cabbage
1 tsp. basil
1 tsp. oregano
1 Tbs. parsley
Salt and Pepper to taste
Instructions
In a large frying pan sprayed with cooking spray, sauté garlic, onions, carrots, and mushrooms for about 5 minutes.
In a large crockpot, combine sautéed garlic and vegetables with the remaining ingredients. Cook on high for 2-3 hours, or until vegetables are cooked.
Around The Web
'); script.type = 'text/javascript'; script.src = 'http://widget.crowdignite.com/widgets/31877?v=2&_ci_wid=_CI_widget_'+_CI.counter; script.async = true; ref.parentNode.insertBefore(script, ref); })();