It's Recipe Day again! This time I grabbed one out of the book for White Bean Chili. I had a chicken chili a few weeks back at
Rick's Tavern
and loved it. Since then, I've been craving it. While this is different since it uses ground turkey – it at least got me a bit of a fix for it.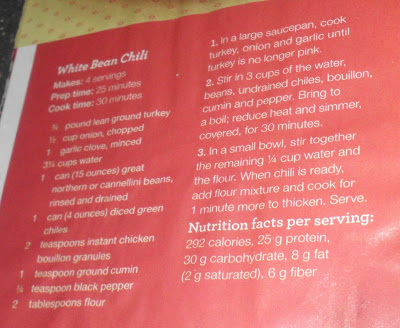 I have no idea where this recipe came from. I've been tearing recipes out of magazines for years. This one doesn't have a magazine name on the bottom of the page. I'm thinking maybe a Fitness or Good Housekeeping – it wasn't a "cooking" magazine I don't think. I even Googled to no avail. It's pretty healthy though at only 292 calories per serving! (If you have issues seeing the ingredients – click to enlarge.)
I didn't have to substitute much here – the only thing I did differently was use a 24-oz jar of the northern beans – they're my favorite and instead of water/bouillion – I just used chicken broth.
Next time I need to see if I can find some medium green chiles – I always get these mild ones and they don't have any kick to them!
Brown the ground turkey, onion & garlic, then add the broth, beans, chiles, cumin and pepper – very easy! Let simmer for 20 minutes or so…
Mmmmmm flour and water slurry. Stir this at the end and serve – voila!
I'm still working on my presentation efforts…and the camera doesn't always help! The flash was too bright so we had to go natural kitchen lighting. I plopped some sour cream on top and had a few chips on the side.
Why Should You Make It: I loved it! There were 4 big servings and Larry – who isn't a big bean fan – even liked it. I've brought the 2 leftover servings for lunch this week – so that's always a plus in my book. It makes extra but not too much. I would add some hot sauce or spicier chiles the next time around as well as maybe try this with shredded chicken. All in all – very tasty comfort food! Enjoy!
s