We're now becoming "regulars" to the Wal-Mart on Red Bank. I have to admit – I never ever EVER went to it when it was in my 'hood of Pleasant Ridge but this one is much nicer.


9 times out of 10 – we're going around lunch time – and there are quite a few spots open now on Red Bank to dine (Izzys, Penn Station, Salt of the Earth, Gold Star, El Jinete, etc…) but most recently China One opened right next to the uber-chain.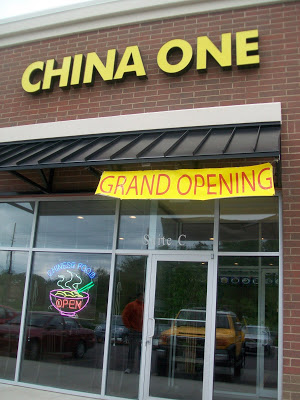 Yes – you can see the tonka truck in the window…
We each got the lunch special (Mon-Sat 1030am-3pm) which came with fried/white rice and choice of wonton, hot & sour soup, egg drop soup, egg roll or chicken on a stick. Larry's not much for soup or egg rolls (duh) so he got the chicken on a stick while I went for the egg roll.


Chicken on a Stick – delish! Is it chicken? I think so…and it's really good. I typically call this "pink chicken" when I see it at a Chinese buffet. I love it…he liked it too! Egg roll was fine – nothing special – I never really taste much in terms of the "stuffing" – wish I could find a place where I could distinguish pork from shrimp from veggie in one of these things!


These came very quick and were hot…just a side note.


Sweet & sour chicken ($5.50) was…well…sweet & sour chicken. Good – lots of chicken. Sauce wasn't too sickening sweet…



I got Szechuan Chicken ($5.50) and that shiz was HOT! Wowza! I'm a wuss – so hot for me is probably a 4 out of 10 on a hot-lover scale…but this was probably an 8 out of 10 for me. Bearable but a little too spicy for me. It was fine – flavor was pretty good.
Why Should You Go? It's the only Chinese joint on Red Bank that I could see and it's a nice change from the rest of the "sandwich" places. It's nothing special but it's clean and cheap.